NHS celebrates Random Act of Kindness day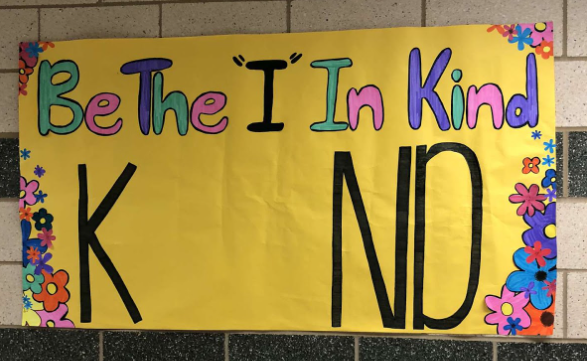 Valentine's Day has just passed, but members of the National Honors Society have different ideas in mind as they look forward to spreading love through kindness.
With the Random Act of Kindness Day (RAK) approaching tomorrow on Friday, Feb. 17, NHS members are excited to highlight the importance of showing empathy throughout the week with recognition and promotion of simple everyday gestures.
Jennifer Hyland, the NHS adviser, hopes the event will boost the school spirit and increase positivity in the learning environments. She said, "RAK day is just a reminder to be nice and act kind to each other. In today's society, it is very easy to be negative and mean to each other, especially on social media, so I think reminders like these, to be kind, have become more important for kids and adults alike."
Senior NHS member Albana Selgjekaj thinks Friday's event is centered around creating a long-lasting spiral of kindness and gratitude. She said earlier this week, "The RAK day will be promoted through week-long events of kindness acts. There will be different acts that you can participate in every day through this week, like smiling at a stranger, writing a note to a teacher, giving compliments to people, and ultimately showing your contribution to spreading kindness."
Selgjekaj and other members have been hanging posters around the high school. She said, "We were careful to make sure these posters would increase involvement. For example, one of the posters had the saying 'Be the I in Kindness,' but the I is missing and we want students to stand in place of that I so that it would spread in social media like a cascade effect."
The NHS wants to remind everyone that their kindness does not go unnoticed, but the opposite is true. Hyland said, "We have used the announcements as a platform to recognize individuals who are demonstrating acts of kindness. There is a different theme every day which people could follow to show kindness, whether it is picking up trash or opening doors or saying something nice. Kindness is not an expensive thing – it can be something simple and small and that is what we are trying to get students to realize."
Hyland says these reminders are especially important as students and staff feel worn down with the winter months of the academic year. She said, "This event basically acknowledges each other's simple deeds and encourages everyone else to do the same by being grateful and kind."
On top of this, the event is targeted at a larger audience than last year. Selgjekaj said, "Unlike last time, we are keenly focused to make a difference in the whole school rather than just the NHS members, and we are preparing programs to increase the involvement."
According to Hyland, the NHS members began promoting the kindness earlier this week. She said, "We had some do simple things like taping the Jolly Ranchers on to the pieces of paper, some created the posters that we see up, others have taken in-charge of social media promotion through our Instagram page. We also have student mentors who will be going to 9th grade classes this Wildcat Focus day for a special letter writing activity. Different members are accomplishing different tasks and we ultimately hope that everyone is demonstrating kindness in their own way."
As the president of the Wildcat Focus program, Selgjekaj is taking initiatives to incorporate RAK day. She said, "Ms. Monastero [Focus coordinator] and I talked about it since this was not an aspect of that program at the beginning, but we wanted to get as many students involved as possible. I suggested that students write thank-you letters to teachers, but Ms. Monastero wanted to go above and beyond, so now 9th-graders will watch videos and lead discussions on what speaks to them."
Hyland thinks that Wildcat Focus will not only serve to promote kindness, but also the club itself. Hyland said, "We wanted to do two things: First is to spread kindness, and second is to attract future members who will be interested in continuing these positive pursuits. We are going to talk about what the NHS is, and we are going to promote the pillars of character, leadership and service."
NHS members have bigger goals with RAK day, as Hyland says they will also facilitate teacher involvement. She said, "We are giving each teacher a pay-it-forward card where we ask them to do something nice and give the card to someone to continue the kind acts too. On Friday, we are going to have a poster in the cafeteria where everyone can take a heart and reflect on how they exhibited kindness."
Selgjekaj considers RAK day as very important to establishing a positive school environment. She said, "We high schoolers are teenagers, and sometimes with so many things going on in our lives, some may have attitudes. Programs like these are important as they provide everyone an opportunity to give back something positive so that they are self-aware of what they put out in the world."
To learn more, follow the official NHS Instagram page at mayfield_nhs.