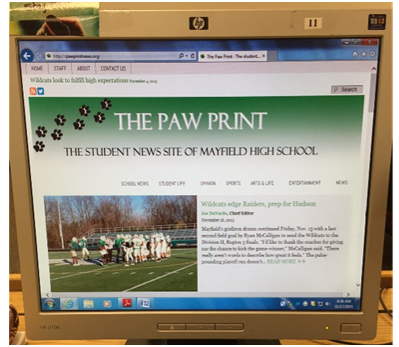 Ariana Chriss
Informing the students—that's what school newspapers are for. Yet at Mayfield High School, the online school newspaper, The Paw Print, means much more than just that.
Through the efforts of the staff, the advisor, and the community, The Paw Print has been able to thrive in just a short amount of time. Just last year, at the beginning of the 2014-2015 schoolyear, the newspaper was born through an abundance of work and the help of the school's funding. Since then, it has positively affected numerous students and the high school as a whole.
Jeffrey Legan, the principal of Mayfield High School, is pleased with this growth. He said, "This newspaper has just kind of exploded in a positive way. Kids are able to express themselves freely, but also in a very respectful manner, and I think that they're reporting on relevant news."
The Paw Print has instilled pride, too. He said, "I'm most proud of the leadership the students have taken on."
Legan's role is very important when it comes to the school newspaper. He reads all the stories, approving them prior to publication. He said, "Other than that, I just leave it up to the kids and Mr. Somich."
Nicholas Somich, an English teacher at Mayfield High School, is The Paw Print's advisor.
Somich commented on Legan's role. He said, "Because we are a school-sponsored newspaper, Mr. Legan funds our newspaper. So, he has final say on every story."
If a topic is too controversial, the information is incorrect, or a story is done poorly, Legan can advise the staff not to publish it, or suggest editing or revising.
Somich has a specific role himself. He said, "I'll work with Joe [DeNardo], our chief editor, and I will make sure that he has a plan for contacting staff members and for following up with them to make sure they meet their deadlines, and encouraging Joe to come up with good story ideas for future stories. I will also help him to edit all of the stories, so that anything that goes online has been looked at by him and looked at by me, so that we have a chance to proofread as much as we can.
"I also will contact Mr. Legan to keep him in the loop to make sure that everything that we're doing is satisfying our school," Somich said.
Certainly, the school is being satisfied with the work done on The Paw Print. Legan said, "I think that it just adds to the school culture—a school of pride. The kids are happy to be here."
It seems as though the students truly are enjoying the presence of The Paw Print.
"I see a lot of students that are interviewed or featured in stories. They love it," Somich said. "So, it's pretty cool to see them featured, but it's also cool when people are photographed in our photo galleries because I'll see students who are clicking through them."
Junior Chris Giancola is an occasional reader of The Paw Print who sees the significance in this aspect of the school.
He said, "My favorite thing about The Paw Print is how they write about the truths of Mayfield High School. It is an unbiased source of Mayfield news and information. I think that it's a good service to have, and it's impacted me because I have more faith in the school now."
The Paw Print does not only impact its readers, but its staff as well, whose members have also been featured.
Somich said, "There's been some really cool stories that have featured staff members as people or maybe just featured their quotes because they advise a club. There's a buzz amongst staff members that are interviewed because they enjoy the fact that their hard work is being recognized by students."
With every new story put up, the newspaper's staff members gain confidence as they witness students reading and commenting on their stories. In addition, they have been nationally recognized multiple times on Best of SNO.
The Paw Print's website is hosted by School Newspapers Online (SNO), thus making it part of a national organization of student journalists. Further, to be published by Best of SNO is a notable achievement, as SNO is one of the top website providers of online student newspapers in America.
Somich is quite proud of the staff's accomplishments and togetherness. He said, "As a staff, I think we have developed some kind of a bond between staff members."
Truly, the staff continuously grows through The Paw Print and its communality. This has been evident to Somich as well.
He said, "It's kind of cool to see growth among the staff members. I've also seen a growth in talent, in that people are adding to their skills. It's exciting to read stories that are pretty darn good to read and fun to read."
There is staff member in particular that Somich believes was greatly affected by The Paw Print— Kate Bakhtiyarova, the chief editor of the 2014-2015 schoolyear.
"She very badly wanted to start this newspaper last year in her senior year," Somich said. "So, she took it upon herself to assume a lot of the burden of time and energy of starting and working on this newspaper last year. I think it really made her senior year—I will say it impacted her life greatly."
The role of chief editor was passed down to senior Joe DeNardo for the 2015-2016 schoolyear. He too is passionate about The Paw Print.
DeNardo said, "I like how I can bring my own source of creativity to Mayfield and feature people who are bringing their sources of creativity. We just want to make it so that everyone at Mayfield who does something worth noting can be showed the recognition they deserve because we feel we have a lot of good things going on at the school. It helps to let people know that they are being recognized for their hard work."
Not only is the hard work of the school community being acknowledged, but the work of the staff seems to be paying off.
"We kind of established ourselves as the most genuine source of Mayfield's journalism," DeNardo said.
He believes The Paw Print has helped the school in several ways as well.
He said, "We help by getting people involved and getting people thinking about different things. That's the whole reason we are doing this—to make people realize that it's not always about sports and certain clubs. It's about everything that brings us together as a whole—each component of our school makes it the place that it is."
DeNardo has hopes that these aspects of The Paw Print live on after he graduates and passes on the title of chief editor. Further, he anticipates the newspaper's progression into a part of Mayfield High School.
He said, "Right now, it's in its earliest stages. It will grow into something Mayfield will learn to appreciate."
Legan has a vision for The Paw Print's future, too. He said, "I would love to make this part of a journalism class—but that is something I would want to talk to Mr. Somich about—because I think that it could become even bigger than it is." Thus, he hopes to get more students involved.
In addition, Somich has expressed his ideas of the newspaper's future.
"Maybe ten years from now we're in the conversation for going to a national conference and winning awards," Somich said. "But I don't think we're there yet."
For now, he hopes for an increase in traffic numbers on the website as a sign of improved readership. Mostly, though, he anticipates the growth of The Paw Print's staff as writers and artists.
"I have very modest goals," he said. "My goals for the staff are to improve with every launch—that we show that we are better this month than we were last month. If the staff shows improvement, I think we've met our goal."