No one off-limits to ISIS attacks
Hang on for a minute...we're trying to find some more stories you might like.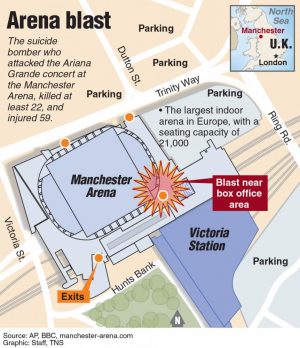 Because of events on May 22, Manchester is grieving today as many loved ones were lost due to a horrible act.  
At an Ariana Grande concert in Manchester, a man associated with ISIS blew off a bomb in a suicide mission. ABC News reporter Emily Shapiro said, "At least 22 people died from the blast, and more than 50 others were injured."
ISIS had no problem owning up to this terrorist attack, further proving they are sick and vile people. Shapiro said, " In a statement translated from Arabic, ISIS said that a 'soldier of the caliphate' placed explosives at a gathering of 'crusaders'."
ISIS has yet again committed sadistic and cruel acts. It is one thing when you take adults and brutally murder them, but when you have young women, even children, and bring them into a world of pain and mental torment, that is a whole new world.
ISIS is a sick, sick organization.
Shapiro said, "An 8-year-old girl named Saffie Rose Roussos was among those killed. Twelve other children under the age of 16 were seriously injured, officials said."
ISIS is simply an organization of twisted people.  
British Prime Minister Theresa May told ABC News, "We struggle to comprehend the warped and twisted mind that sees a room packed with young children not as a scene to cherish but as an opportunity for carnage."
The New York Times reports that after Prime Minister May spoke with her top security officials,  she said, "It is a possibility we cannot ignore that there is a wider group of individuals linked to this attack."
Security measures need to further be taken to protect the free world and more steps need to be taken to eliminate the threats we have been facing since 2001. Countries need to be working together and quickly take out this threat that has been killing so many innocent people in the process.