YT disappoints with rushed service, effortless food
Moriah Jones, Guest Writer
November 30, 2017
Freezing atmosphere. Uncooked food. Loud people.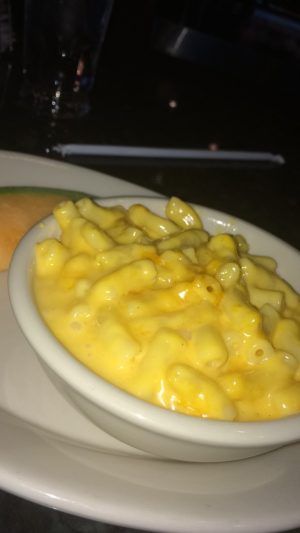 Yours Truly in Mayfield Village is not the place to eat.
As I walked into Yours Truly, a huge whiff of stale coffee tickled my nose and the volume of people's voices rang my ears. I noticed that the entire restaurant was packed with elderly men and women and not an empty table or familiar face
was to be seen through the crowd. Expecting that there wouldn't be many attending the restaurant due to it being a Tuesday October night, brought forth a surprise to me.
After observing the large amount of people waiting on the side to get seated, I was notified by a lady that there would be a 15 minute wait. The thought that went through my mind was that waiting 15 minutes wouldn't be necessary considering the fact that it was already 7pm and I had to attend school the following day. Therefore, I chose to sit at the bar area where the seats were empty.
The restaurant was fairly clean by the look, but it was hard to tell due to the amount of people that filled the small area.
As soon as I sat down, I was pleased to see a pretty, blond, young waitress handing me a menu. But as she was doing so, she asked what I would like to drink without even giving me a chance to take it from her hands. Feeling discomforted and in a hurry, I quickly chose water.
Coming back within less than a minute, the waitress asked what my order would be. As she was asking this, I was looking at the mac and cheese and chose to get that dish, since I had little time to think about what I wanted.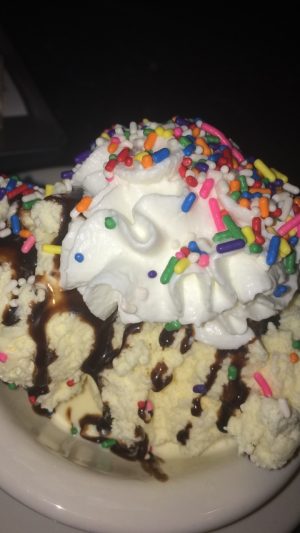 Her name? No clue. She never introduced herself and it slipped my mind to look at her nametag in addition to all of the chaos going around.
Speaking of chaos, a disobedient child that looked the age of 6 was being chased by (who I'm assuming) was his mother. An embarrassed expression came across her face and many stopped what they were doing to watch what was happening before their eyes.
Thankfully, my order was served to me in eight minutes. The mac and cheese was steaming hot and a fresh roll was brought to me as well. However, I was disappointed in the presentation because the mac and cheese was served in an extremely small bowl as if it were a kids meal.
The mac and cheese was fairly cheesy (after all, it is mac and cheese) except it tasted like it was packaged powder cheese and I was convinced that the "chefs" placed my meal in the microwave. Not to mention, the noodles were hard so I assumed that they were undercooked.
If I wanted store bought mac and cheese, I would've bought it.
Panera and Yours Truly are both similar because both restaurants offer mac and cheese. In comparison, the mac and cheese served at Panera is creamier, tastes more authentic and the noodles are softer. Furthermore, the atmosphere in Panera is more peaceful and less chaotic.
Alyssa Caspio, a sophomore student that attends Yours Truly frequently, commented on the restaurant's atmosphere and mac and cheese. Caspio said, "There's too many people there, there's not enough seats and the wait is long. Also, I'm not a huge fan of the mac and cheese because the cheese tastes artificial and it tastes like a ten year old made it."
Clearly seeing that I was only halfway finished with my food, the unknown waitress asked if I'd like to order dessert. Frustrated that I didn't have time to properly order my food or drink, I asked respectfully if she could wait until I was done eating. Saying, "sure take your time" I felt a little better…until she came for the second time asking if I've made my choice while I was still finishing my dinner.
Her impatience was beyond obvious and by this point, I was ready to leave. This was all until an elderly couple who sat by me, spoke.
During my critiquing, I was asked by the elderly couple next to me if I eat here often to do my homework. After explaining briefly on what the assignment was about, they seemed really interested and engaged in the conversation. They then asked what school I attend and a connection was made due to them working at Mayfield High School years earlier.
The couple also informed me about the restaurant which was not only generous but very helpful as well. Coming to the realization that they've eaten there numerous times, it occurred to me that their quesadilla order was seen to be far more appetizing than my meal.
When finally willing to order dessert, my choice came to one named "A Buck a Sundae." Hence the name, this sundae was only $1. My dessert was brought to me in no time and it consisted of two large scoops of vanilla bean ice cream, chocolate drizzle, fresh whipped cream and sprinkles.
Understanding why my sister who once worked here a few years back hated the job, made me come to the realization that Yours Truly wasn't the place for me. But if you're the type of person that likes food quick easy and cheap, this is the right restaurant for you. However, sitting down and enjoying your meal without getting rushed isn't typical here.
Whether it may be the freezing atmosphere, rushing waitresses, chaotic crowd, or effortless mac and cheese, Yours Truly deserves 3 out of 5 ice cream scoops. However, the 8 minute wait, fresh hot bread, phenomenal ice cream, friendly couple and amazing prices were somewhat worth the visit, as well as my money, which made my experience at Yours Truly memorable.
Name: Yours Truly

Location: 6675 Wilson Mills Road Mayfield Village, Ohio 44040

Contact info: http://www.ytr.com/ (440)-461-0000

Price: cheap ($6.29)

Type of food: American

Rating: 3 out of 5 ice cream scoops