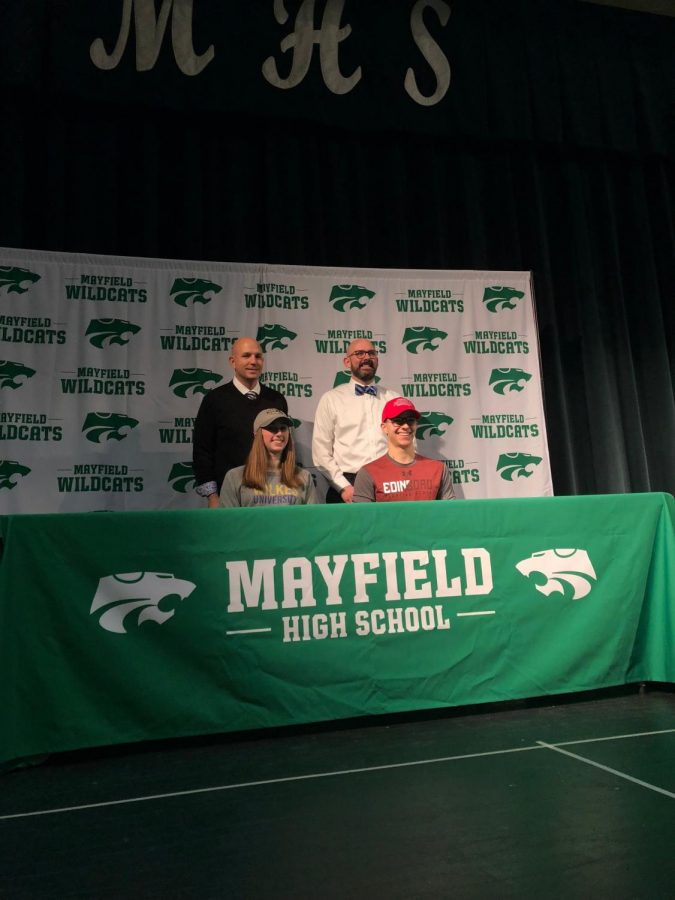 Becca Fritz
Basketball player Katelyn Kinczel and swimmer Kevin Morgan took the next leap in their academic and athletic careers thanks to signing day.
Kinczel chose to further her education and academic career with Wilkes University in Pennsylvania. Morgan will be joining her in PA as he is going to Edinboro University.
Keith Leffler is the athletic director at Mayfield High School. One of his main focuses throughout the year is signing day for the senior students. He said, "Signing day is a day to recognize our students are going to continue both their athletic and their academic careers at the college level, to kind of recognize the hard work that they've put in for four years and to kind of introduce them as our next collegiate athlete."
Not only does Leffler have signing day once a year, but he has to arrange this process multiple times throughout the year. He said, "There are a couple different signing periods during the year; it's all determined by the NCAA so we typically do three ceremonies. We do one at the end of the fall season, one in the winter and then one in the spring. It all is based on which sports have a signing period during that time."
While Leffler works hard on signing day, he has a couple helpers. He said, "As far as the planning, I work with the coaches and the students in order to determine who is signing, where they're going. As far as the actual ceremony itself, I coordinate it with digital media and Mr. Somich and Laurie Uhlir who is the community relations director for the district, so that we can publicize this and market it and kind of get the word out about celebrating the kids."
Signing day, however, does not take much time to prepare. Leffler said, "It all depends [on how long it takes to put together signing day], again because based on the signing periods, usually a couple weeks notice. It doesn't take much for us to put this on; it's really just getting the word out and making sure that parents and families can take time off of work to be here."
Picking out a college is a choice almost every senior has to make, but Morgan had a bit of help from his peers. He said, "Talking with coaches and the other swimmers [helped him decide what college]."
However, Kinczel based her decision off of something a little different than Morgan. She said, "I based my decision on academics first because I really wanted to do pharmacy so Wilkes has a very good pharmacy program and it was just a perfect fit with basketball too."
Morgan has always been drawn to Edinboro University. He said, "I did a recruit form and sent it in and then the coach at Edinboro reached out over email and then we had a phone call or two."
Along with Morgan, Kinczel said, "I contacted [Wilkes] first because I already knew about their pharmacy and they got a new coach this year so I was excited for that opportunity, so once I contacted them they really wanted me to come."
Since signing day is a gigantic deal for the seniors, they had some help from their coaches. Morgan said, "My coach went to Edinboro and he swam with the current swim coach at Edinboro, so having that relationship with the coach and the team, he was able to give a nice recommendation for me."
However, Kinczel's coach helped in a bit of a different way. She said, "He's helped a lot; he's helped me improve basketball-wise and he has taught me a lot outside of basketball and he's been there for me during this entire college process."
Morgan was very thankful to receive this opportunity at Edinboro, though there were some other colleges that drew his attention. He said, "There's always those other schools that you wish you could sign at; I mean a big one for me would've been Cleveland State, but I just wasn't fast enough and they had a lot of recruits coming from other schools, but in a perfect world, Cleveland State."
Kinczel also had other schools in mind. She said, "There was Ohio Northern, Findley, Gannon University, and there were a few [other schools that she was looking into] but those were the big ones."
Leffler said it's good to recognize the seniors. "We want to celebrate them," he said.
Advisor's note: A special thanks to Katelyn Kasprisin of Advanced DMP for the video footage provided.