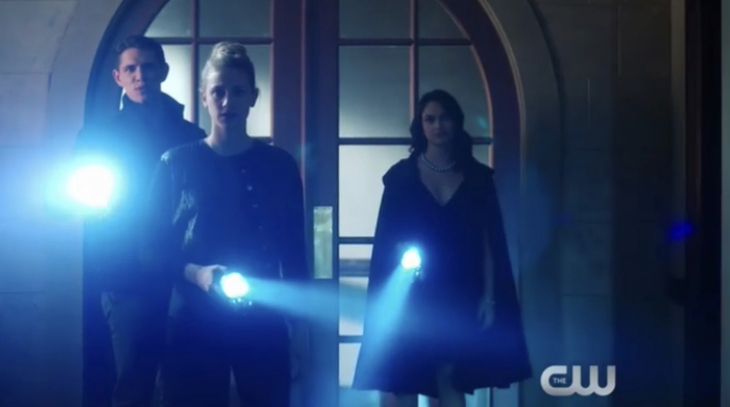 Official Riverdale Instagram
They're a group of misfit teens. A rich girl who just moved to town; a striking red headed boy; a picture-perfect blonde; and a social outcast writer, writing a narrative that isn't so fictional at all.
They're the four high school sophomores that decided to band together to solve their small town's mystery, on the show "Riverdale", one of the best new age shows I've seen in awhile.
The basic premise of Riverdale is high schooler Jason Blossom went presumably missing until months later, his body was found, and the entire first season is figuring out who did it.
Riverdale is a show set in the small town of Riverdale, filmed in Vancouver but set somewhere with usually rainy, cold weather in the United States, set in recent years. A lot of the time, the weather and setting really adds to the creepy feeling of many scenes, which I thought was a cool effect. Riverdale uses little things to reference to the 40's as the show is based off the "Archie Comics".
The main characters are Archie Andrews, Betty Cooper, Jughead Jones, and Veronica Lodge. They become a group of best friends pretty quick, and over time deal with normal teenage drama. Other important characters are the kids parents, some played by well known actors like Skeet Ulrich, the late-Luke Perry, and Mädchen Amick.
A lot of the conflict throughout the show is based around Jason Blossom's murder. Besides that, there are conflicts within the friend group as even within the first and second episode some of the group has their fights. Even the parents have drama, especially Jughead's father, who's the leader of the town gang, the Southside Serpents.
Sophomore Carolina Tellado has watched the first season of Riverdale and is a fan of the show. She said, "It was very alluring; it drew me in right away. It had a good concept, and it had a little mystery and romance."
Some plot points were unnecessary, though as at one point most characters are suspects in the murder, and when the time comes to Jughead, it's only one short scene that was resolved in minutes. The plot point just made no sense to be there, as it affected nothing.
This show also uses lots of references and allusions to other literature, shows, and movies. While this is cool, it doesn't make very much sense for your average teenager to be making references to "Jekyll and Hyde" and "Catcher in the Rye". Some kids may be very well versed in literature and media; it's unlikely they would be constantly making references.
Actor KJ Apa plays the main character on Riverdale, Archie Andrews, upfront he's the classic boy next door but there eventually is more depth. Apa does surprisingly well at portraying your average American teenage boy, given that he grew up in New Zealand. As I watched the show I couldn't even tell because his American accent sounded so real.
Actress Lili Reinhart plays the main character Elizabeth (Betty) Cooper, the classic girl next door that tries to act perfect and she immerses herself into being a detective. Lili does well with this by always having the right powerful facial expressions, and she never seems to act bad in a scene as she engulfs herself into the character.
Tellado feels Reinhart's acting is very well done. She said, "She plays Betty very well; she has the character down and doesn't really change it throughout the season, it's very consistent."
Actor Cole Sprouse plays one of the more intriguing main characters, Jughead Jones, a mysterious and dynamic character with this dark and hard exterior. Jughead became my favorite character by the end, because who can resist watching something with ex-Disney star of "The Sweet Life of Zack and Cody," and not love Cole. Although, Cole really does do well with playing Jughead, using intense facial expressions and sometimes even just a great boyish smile.
Actress Camila Mendes plays Veronica Lodge, a rich girl with a shady father and who is trying to be good. Camila does a great job with this because she really can get into her anger and portray all the intense scenes Veronica has. Camila has to yell and cry a lot, and I really feel it with the character sometimes when she does this.
This show is similar to the show "Pretty Little Liars", with the fact that it has a mystery and drama. Also, it's the same idea of one group of friends, and the friends themselves are trying solve the mystery. Both shows were based off literature, Riverdale off of Archie Comics, and Pretty Little Liars off of the book series Pretty Little Liars by Sara Shepard.
Riverdale is different because there's more family drama, and it's different kinds of crimes and the story continues to differ, unlike in Pretty Little Liars where the plot is almost the same the entire show.
I also want to pay tribute to the late-Luke Perry, who played Archie's dad, Fred Andrews. He was a beloved actor to all and was loved by the entire cast and crew. The show won't be the same without him, but the show is going to continue but he will be missed.
I gave this show's first season a rating of four out of five milkshakes. While I enjoyed watching the group drink milkshakes in Pop's Chock-lit Shoppe, there were little things I found strange and it's not a show for everyone. While most shows try and make the first season good so the show continues, I think the first season is the worst of all the seasons so far because some plot points are a little confusing, but it was amazing overall.