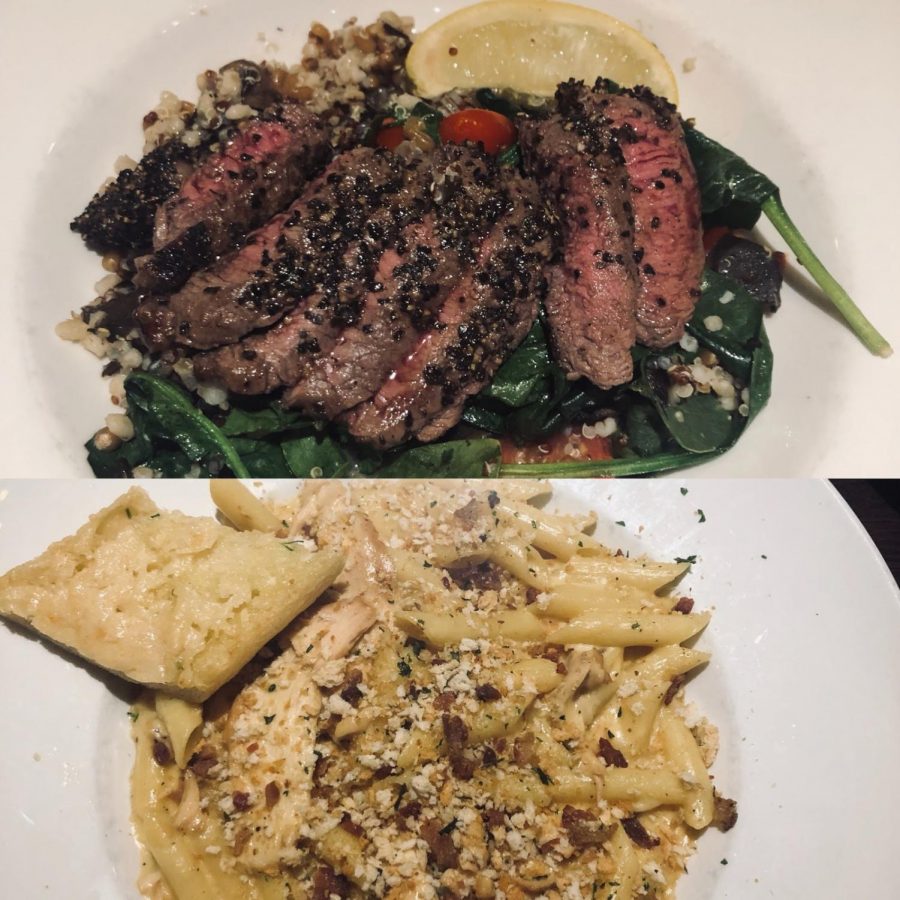 Juliana Fimiani
Despite the dark atmosphere and the slower service, Granite City Food & Brewery in Legacy Village is the place to get a tasty American meal.
When you walk into Granite City, you get the vibe of lots of business workers and couples out for a date night. Most people I saw were dressed up and quietly talking.
The restaurant is set up with wood tables, brick walls, and granite countertops at the bar. Although it was very dark, the dimmed lighting they have is very pretty and relaxing.
Junior Elise Holfeltz has also eaten at Granite City. "The food was overall really good, but I don't prefer dark restaurants because it makes me tired in a way," said Holfeltz.
Another similar Italian restaurant to Granite City is Capital Grille in Legacy Village. Capital Grille has similar menu items and is also a fancier restaurant but is more expensive than Granite City.
I went to eat with my mom, and we got seated right away but it took a few minutes for our waitress to come to our table. She was friendly but spoke quietly and my mom found it hard to hear her at times. It did also take a little longer than it should of to get our drinks.
Sophomore Chris Foell had similar issues with his waiter. "When I went out with my dad, our waiter forgot to get my drink like two times before I finally got it but the overall experience was good," Foell said.
When it came down to ordering dinner, I got the Bock and Cheese Pasta which the waitress described as an adult mac and cheese. It was $14.49 and came with chicken breast, toasted bacon breadcrumbs, and a creamy cheese sauce on top. My mom ordered the cracked pepper sirloin for $18.99, which was served with an ancient grain blend, roasted portabella mushroom, wilted spinach, and grape tomato, all finished off with a drizzle of balsamic glaze.
Both presentations of food were beautiful and tasted really good. My pasta was overall pretty yummy, but a little bit too rich in taste for me. I also tried my mom's sirloin, and it was cooked to perfection and tasted excellent.
Junior Danielle Wallace also enjoyed her meal at Granite City when she dined there a couple of weeks ago for her mothers birthday. "When I went with my family, I ordered the top sirloin steak for $20.99 and it was presented well and tasted amazing," Wallace said.
Even though most of the meals are expensive, I'd say that the quality of the food is worth the price. Granite City doesn't feel like a restaurant you'd go to for a weekday type dinner, rather for a celebration or some sort of business outing.
Every restaurant can always improve, and when it comes to Granite City they are almost on point. The restaurant is spotless, the atmosphere is calm but dark, and the servers are a little slow. Despite the couple downsides, Granite City is a great place to get an outstanding meal, and for that, I give it 9/10 burgers!

Facts:
Granite City Food & Brewery
Address: 24519 Cedar Rd, Lyndhurst, OH 44124
Phone number: (216) 297 4495
Website: https://www.gcfb.com/
Food type: American
Price: Moderate to expensive
Fun fact: The restaurant's first location opened in 1999.
Yelp rating: 3/5 stars
My rating: 8/10 Burgers