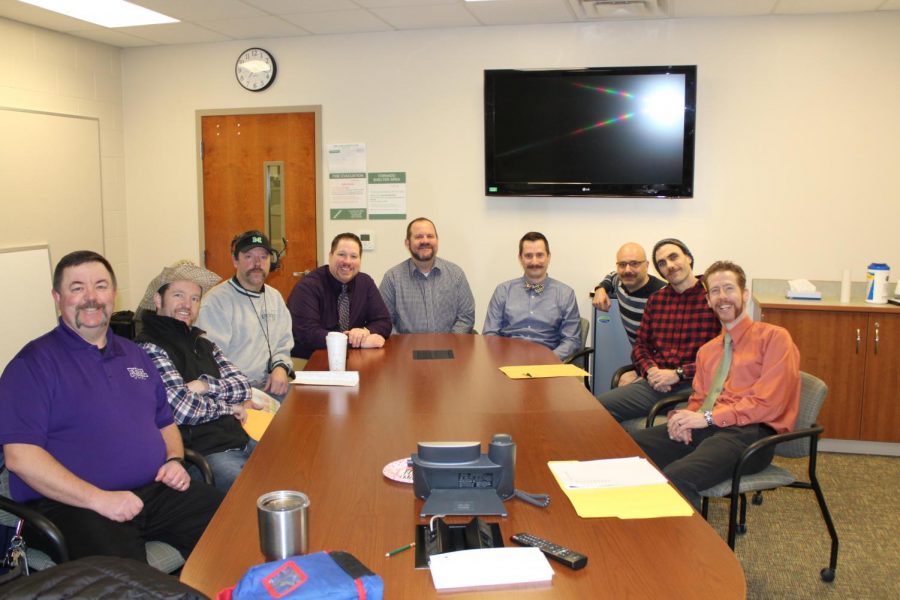 Josh Chormanski
Mustache for Cash is quickly approaching and will have returning and new participants.
Mustache for Cash, a childhood cancer fundraiser to benefit St. Baldrick's patients, was started by history teacher Ryan Pubentz. He said, "Unfortunately cancer is something that so many are impacted by, that I felt Mustache for Cash was a fundraiser that many could support, knowing the money will go to the St. Baldrick's Foundation and go towards childhood cancer research."
Science teacher Micheal Verdi has won the golden mustache award the last three years, which means he's earned the most money since 2017. He said, "Usually if we remind kids that we all know someone who has battled cancer or they might have to deal with it later in life, it helps them dig into their pockets."
Science teacher Matthew Lucas is a new participant this year and finds part of the fundraiser to be scary. He said with a smile, "I haven't had a clean face in ten years, so I get to see myself with a mustache."
Lucas admits he's also thrilled about being in the fundraiser. He said, "It's also exciting too because I know we get to raise money for an awesome cause."
Math teacher Bill Whaley is also competing for the first time. He said, "I'm not going to lie, it's rough. My significant other, my wife, does not appreciate facial hair so it was hard to break the news to her I was going to do it."
Pubentz's persuasion is the only reason Whaley committed to being in the fundraiser. "Ryan Pubentz is very dedicated to it, and it was not something I volunteered for in the beginning, but he sold it, and he cares so much about these kids that it's hard to say no to him," Whaley said.
Lucas believes that the fundraiser is not only a good cause, but a good way to get himself out around the school as a new teacher. He said, "It's a way to give back and a way to get my face out there too so people can see me and get to know me a little bit – also to kinda make myself a part of the culture and integrate into the school a little bit."
According to Whaley, his primary goal is to help the St. Baldrick's kids. He said, "It is such a worthy cause, [so] it's kind of a jerk thing not to participate."
Lucas only has two hopes for Mustache for Cash. He said, "I hope I don't look like a creeper, that's pretty big, also just getting my face out there and getting people to know me a little bit more and be able to raise a lot of money to something that is really important to me."
Mustache for Cash has a fun history according to Pubentz. "This was a fundraiser that was started at my old school district, and I was able to dethrone my old department chair and win the golden mustache, and ever since then I craved it," Pubentz said. "So when I came to Mayfield I made it a goal of mine to start the fundraiser, Mustache for Cash, and now we are going on six years strong."
Because Mustache for Cash is about raising money, Pubentz said the magic number to reach is $1000. Pubentz said, "If we have eight to ten participants and each one of them gets about a hundred dollars, that's one grand."
Pubentz admits the fundraiser also raises awareness by involving kids who can make a donation – big or small. "You can make a difference in every nickel, every penny, every dollar counts, that's what we are going to do," he said.
The fundraiser will start at the beginning of March and will last one week.