National Honor Society selects new inductees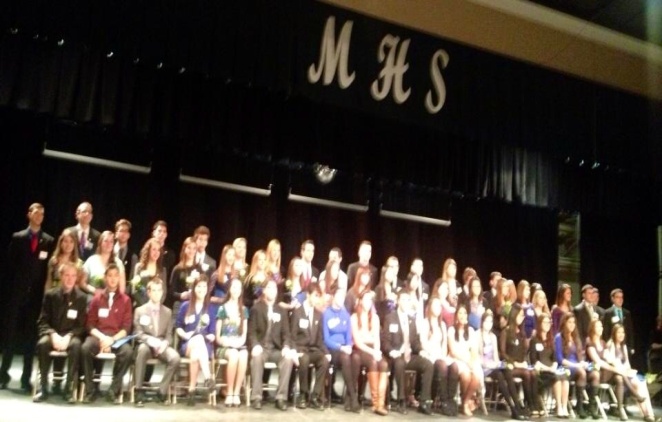 CHARLES EL-HELOU, Contributor
November 16, 2014
Every year, a number of Mayfield High school juniors and seniors are eligible to apply to join the December National Honor Society's induction ceremony.
Even though NHS is a nationally affiliated organization that is well-known at the high school, its selection process is still unknown to many.
Before being honored at the ceremony, students must pass an extensive selection process that begins with the demonstration of academic excellence. Shirlee Shoben, the NHS adviser at MHS, said applicants must have "a GPA above a 3.75" to receive the application.
Consequently, students that do not meet the academic requirement will not receive the application, which causes the selection process to be unfamiliar to them. Jeesoo Kim, a club officer, said, "A large quantity of the students in Mayfield High school is still unfamiliar with NHS."
However, students must show more than academics to be part of this prestigious organization. For instance, Shoben said that they should also display "scholarship, service, leadership, and character".
These characteristics explain the importance of having "at least 30 service hours and must be a part of two extracurricular activities," Shoben said. In fact, several previous applicants have been rejected because they failed to meet these requirements.
In addition, applicants must also represent their beliefs and personal experiences by "writing a one paged essay on one of the particular topics given in the application", according to Shoben.
Finally, each individual is evaluated by "five staff faculty" that decide on whether the applicant demonstrates the four main characteristics. Shoben said, "Faculty members are anonymously chosen from the Mayfield High School staff every year."
She also said, "The principal and the advisor are not allowed to vote in the evaluation process." This demonstrates the level of secrecy and fairness the club has to maintain in the selection process.
After applicants are inducted as a member into the National Honor Society, they are obligated to continue to demonstrate the four characteristics in their daily lives. For example, Kim said that members must maintain "a GPA above a 3.5 and at least 15 hours of service hours per year" to remain a part of the organization.
Members are also required to prestigiously represent the club by dressing in casual attires when attending the ceremonies. Furthermore, maintaining an attitude in school that is fit with the six pillars of character.
According to the selection process guide that is provided by the club, "A person of character must demonstrates the following six qualities: trustworthiness, respect, responsibility, fairness, caring and citizenship."
Moreover, the club is extremely beneficial to the community because it requires its members to attend various service events that help the local area. NHS member Julianna Kocsis said, "every year we participate in events like the food bank, the leaf raking for elders, and several other community service projects."
Even though being a member requires a lot of effort, it also offers various perks. Another NHS member Joey Polazzo said, "The club offered a lot of help with my college applications, especially the college assembly we had."
National Honor Society focuses on its selection process because it is a prestigious organization that is highly regarded by colleges. Shoben said, "Colleges prefer students in NHS because they usually demonstrate the characteristics of an academic scholar."