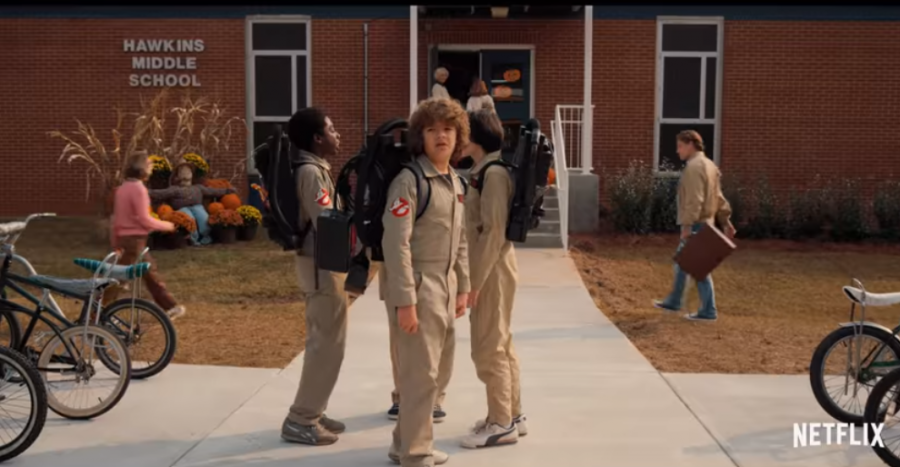 Official Netflix trailer
A scientist's mistake changes the lives of 11 people. Six children, three teens and two adults go up against an inter-dimensional monster. Will they be able to stop the monster from taking over Earth? How are 11 ordinary people going to fight a huge monster with powers?
After an entertaining season one, the Duffer brothers made an even better and thrilling season two of "Stranger Things."
The show caught my attention instantly and hooked me till the end. It was so captivating that I watched all nine episodes, 45 minutes each, in one day. The Duffer brothers directed the series in a way that the ending of each episode was incomplete and leaves you questioning and kind of frustrated. This makes us watch the next episode immediately to find the answer.
The Duffer brothers also excelled at making comedy scenes. Shows like this usually are serious and intense all throughout. It's very hard to include comedy to shows with a horror/thriller genre, but the Duffer brothers made it work. The comedy perfectly blends with the tone of the show.
Apart from the great direction and screenplay, actors such as Winona Ryder and Noah Schnapp contributed greatly in making this entertaining.
Winona portrays Joyce Byers, the mother of Will who suffers a lot due to his connection with the upside-down as he spent weeks living there. Winona does well with acting worried and frightened; her cries and fear were very realistic. She did it so effortlessly that it didn't seem like she was acting, it seemed real.
Noah portrays Will Byers. Some of the things that happened to Will were very difficult to act by Noah. Will was infected and controlled by the monster so there were some intense scenes where something scary and inexplicable was happening to him. Scenes like these and scenes where he's in a lot of pain are very difficult to act but Noah pulled it off. For a guy who's as young as 11 or 12, the acting was spot on.
Senior Prabesh Adhikari also enjoys the show because of the cast.  He said, "[The cast] is led by child actors rather than adults. I also like the genre, science fiction so I enjoyed the show thoroughly."
Prabesh believes that the show is really good because it meets all the requirements of that genre. He said, "What makes the show so good is all the elements they use of science fiction. The actors also do a terrific job carrying the plot."
A show called "Flash" is quite similar to "Stranger Things." In both shows there are a group of friends who try to stop an evil being with powers. However, the purpose of the villain's chaos differs in both shows. Another reason why "Stranger Things" differs from "Flash" is because "Stranger Things" is much more thrilling and captivating.
I would personally give season two of "Stranger Things" a 90% grade. The reason why I would rate it so high is because it's thrilling from start to end and is funny as well. Season 2 of Stranger Things is addictive and highly recommended to everyone, especially sci-fi watchers.
Stranger Things, Season 2
45 min per episode, 9 episodes
Starring: Winona Ryder, David Harbour, Noah Schnapp
Directors: Ross and Matt Duffer
Producer: Shawn Levy
Rating: TV-14 (violent, language)
Genre: Horror, thriller
IMDB rating: 8.8/10 IMDB
My grade: 90%