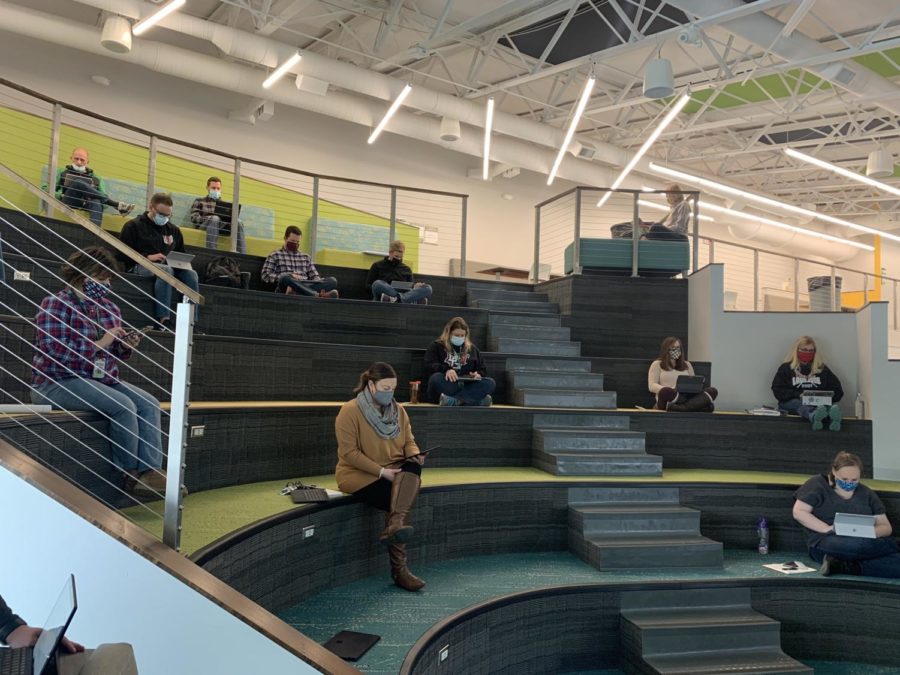 Mr. Legan's official Twitter
Now that a month has passed since Mayfield's high school teachers received their second dose of the Pfizer vaccine, how do they feel about their experience and the new aspects that come with being vaccinated?
Stephen Shirey, a math teacher, recalled his experience as efficient. She said, "We walked in, had our temperature taken at the door, and then they instructed us to a set of tables where they checked our paperwork."
After the short process of the actual vaccination, Shirey remembered that they were instructed to wait for about fifteen minutes to see if there was an immediate reaction before they could leave. "It was extremely well-run. I was very impressed."
Similarly, chemistry teacher Christina McClure thought the process was easy. She said, "The companies that orchestrated the mass vaccination did a great job. I was in-and-out in less than 30 minutes for each dose."
Trevor McGrath, a math and computer science teacher, agreed that the whole process was very orderly and quick. He said, "Everything was very well-organized… We got into the building, went from station to station, got the vaccine, waited a little to see if there were any adverse reactions, and then we were able to leave. We were in-and-out, nice and quick."
The teachers also recalled the side effects that they had experienced after receiving the vaccine. Shirey said, "With both dose, my arm was a little sore, but not bad. The day after the second, I had a mild headache for half of the day, but that was normal for me when we are on Zoom all day."
However, McClure recalled that she only experienced side effects with the second dose. She said, "I felt a little tired with the second dose for the first twelve hours and took it easy but I had no other symptoms."
On the other hand, McGrath remembered having more of a reaction to the first dose than the second. He said, "After the first dose, I had a sore arm for a couple days, and for literally five minutes a few hours after I got it, I felt sick to my stomach. That could have been unrelated though. My only side effect after the second vaccine was a sore arm for a little bit."
Now that they are fully vaccinated, Shirey admits he feels safer coming into the high school. He said, "Knowing that most of the staff are vaccinated means less people possibly spreading COVID. My concern was always more about bringing it home to loved ones with weaker immune systems than me."
After testing positive for COVID-19 in March 2020 and getting the vaccine in March 2021, McClure feels safer coming into work. She said, "The vaccination gives me more peace of mind. I'm glad that I will be less likely to contract it again and possibly hurt someone else by passing it along unknowingly."
McGrath also agreed that the vaccination makes the workplace safer for not only the staff and the students, but also for those at home. He said, "I definitely feel better knowing that I won't bring the virus home or spread it to those outside of the school grounds. The vaccination is a major step in stopping the spread of the virus at school as well."
Shirey looks forward to having students get vaccinated, as well. He said, "I think once students are able to be vaccinated we will see a large majority return [in-person], but I can also see some wanting/needing to continue remote learning. It will take time to get rid of this virus or at least make it not as dangerous for our vulnerable population."
McClure also agrees that the choice to return to in-person schooling should be left to the students, despite the staff vaccinations. She said, "The choice to come back to school is a personal one left to each person to decide. However, with more vaccinations, students should feel even more confident in returning to school in person."
Students who are 16 years and older are able to get the vaccination this coming Tuesday, April 27 in the Wood Gym.