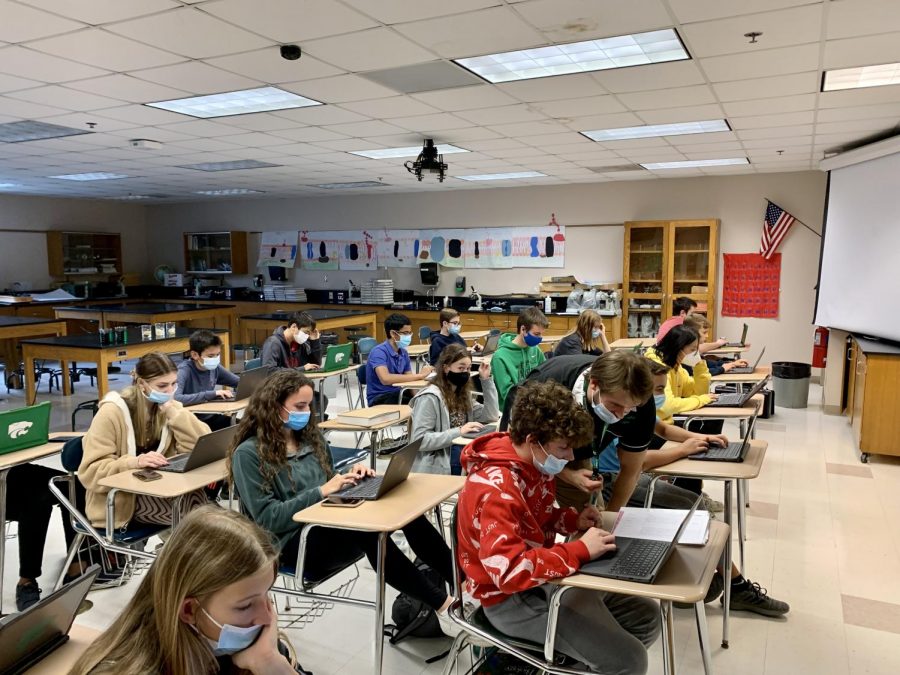 Paw Print Staff
Now that the first quarter has ended, students are making adjustments with how they're studying and preparing for their classes.
Science teacher Polly Canfield believes students did a good job in the first quarter, but they need to adjust to working in and out of the block schedule. Canfield said, "At first, some students had difficulty adjusting to the need to complete work outside of the 90-minute class period, as well as studying for various assessments."
According to Canfield, when students are completing group work, they should realize learning the concept is more important than just doing the assignment. "[For example,] the lab partner understands and completes the questions, but the partner just wrote it down. Students need to remember that 'learning' is what is important – not the getting it done," she said.
Junior Jenny Sarkar, who is an officer in multiple clubs, thinks students being able to trust their teachers for help on anything is important for learning new and hard concepts after recognizing their mistakes. She said, "Making sure that you make that extra meeting with your teacher to understand concepts is a good start [for improvement]."
Canfield also believes it's important to look at notes to complete assignments, so students can be more prepared for studying. She said, "The purpose of the review guide is to get students to open the binder and look at what was done in the unit. Studying is what is done after the review guide is completed."
In addition to having notes, Canfield think students who learn how to stay organized can be more successful. "[Successful students] are organized (having a binder for each class), and they use an agenda or have a method of keeping track of assignments," she said.
Sophomore Sal Palmisano believes it's important to get good grades because it affects a student's future. "If you want to go to a good college you need to try your best in school and study hard. You have to work hard to maintain a good GPA," he said.
According to Palmisano, if you participate in other things outside of your academics, keeping a good GPA and time management is crucial to your future. "[Students] also need to work on time management for clubs and sports, especially for student-athletes that want to play sports in college. You have a higher chance to earn a scholarship if your GPA is good," he said.
The end of the second quarter is Wednesday, Dec. 15 and semester exams begin on Thursday, Dec. 16. Sarkar thinks that students reflecting on their work habits can allow students to be more successful for upcoming assessments. She said, "I think learning from your mistakes is so important, especially with semester grades and midterms."