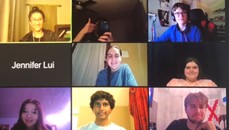 Hannah Kloppman
The Mock Trial team is preparing to compete and present their case over Zoom later this month.
Senior Ilana Miller is team co-president and thinks it's challenging to interact with other schools and make a legal case in an online competition. Miller said, "It's a different environment and when you're interacting with the other team, it can be more difficult to understand things that are going on just with the challenges of Zoom, and it's also different the way you would interact or present yourself, being in-person and standing physically in front of a judge, versus being on Zoom and looking into a camera."
While the competition may be over Zoom, Miller is enthusiastic about the team meeting in-person for practices. Miller said, "This year, it's a lot nicer to be able to be in-person with everyone and still be safe but still get to know each other more and get to work more directly."
Last school year, the Mock Trial team was completely online, including practices, which presented some challenges. Miller said, "We did a lot of meetings on Zoom because we couldn't meet in-person. so it took some extra work to make sure everyone was able to understand what was going on and to be prepared for the new type of competition."
To prepare to compete online, the Mock Trial team will do some Zoom practices as the competition gets closer. According to Miller, practicing over Zoom does have some benefits for the team. She said, "In some ways being on Zoom allowed us to focus more on the actual material of the case and the skills we were trying to build."
However, according to co-president Aribah Hossain, an online competition decreases the experience that students get by participating. Hossain said, "A lot of what you might miss is that friendly nature of getting to know who you compete with, the judges in court and in-person when you see them, knowing what the courts look like, after the competition when we are sitting there and we get our names announced, that's always fun."
Hossain, a senior, also saw the benefits that Zoom practices had on the team's work ethic. She said, "You could argue that we were a lot more productive last year, in part because we were all at home, we had a lot more liberty and time to work together, it was albeit harder, I was amazed at how productive we were, I found myself a lot more intellectually able to perform."
Competing over Zoom also has some benefits for the team, according to Hossain. "You didn't really have to make yourself look as intimidating as it would be in-person. Witnesses wouldn't have to be as scared because it's hard to feel the in-person talk when you're making eye contact on a screen," she said.
Junior Katie Leskovec joined the team this year and thinks a Zoom competition makes the experience less stressful for her. She said, "For me as someone who's new to Mock Trial, I think competing online could be good because it's an easier transition to being in a court trial setting."
Leskovec has observed Miller and Hossain take on even more responsibility to prepare the team for their January competition. Leskovec said, "The presidents have been doing a great job of integrating Zooms and online stuff into our practices and just making sure everyone knows what's going on and is prepared."
As a team president, Hossain is focusing on team-building as their first competition nears. She said, "I want to get our chemistry as good as it has been in years past. I hope over time that we can be a really strong group."