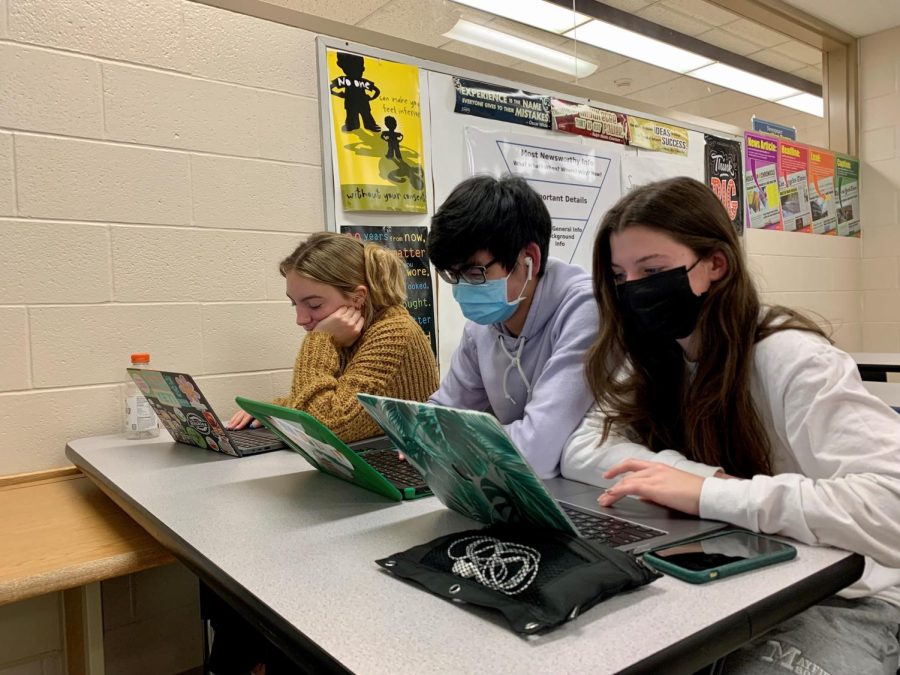 Staff Photo
The upcoming school year consists of a change in the bell schedule, as classes will now be eight 50-minute periods rather than four 90-minute blocks.
Principal Jeff Legan says the decision was discussed by a group of people which included himself, teachers, students, and parents. He said, "I take all that information in and we make a recommendation to the Board Office, and ultimately it's the superintendent and the Board of Education [who make the final decision]."
Many benefits, including the number of minutes students are learning, were considered before changing the schedule. Legan said, "An eight-period day would give you 1250 minutes of instruction over a week. Hybrid block decreases significantly over a course of a school year, like 50 minutes lost per week."
This amounts to approximately 1800 fewer minutes of instruction per school year, or roughly 30 hours.
According to Legan, being able to meet with teachers more frequently was the primary reason for making the change. Legan said, "We looked at other priorities like intervention times, and meeting with your teacher significantly. If we have a snow day or assembly, there is a time where you might not see your teachers for two to three days."
This situation occurred last week when white day classes met on Wednesday, Feb. 16. But due to a snow day on Friday, Feb. 18, and cancelled classes on Monday, Feb. 21 (Presidents' Day) and Tuesday, Feb. 22 (Professional Development), white classes didn't meet again until Thursday, Feb. 24.
Phillip Deaton, a Spanish teacher, is excited to see his students every day with the eight-period schedule. He said, "For world language, I personally think it is better when I can give you little pieces of information every day and constant repetition. For me, I prefer a little bit every day and shorter time periods, so that I can make sure you are reaching mastery because it's less that you have to remember at once."
After two years of 90-minute blocks, Legan expects students to notice how quickly a 50-minute class will go. He said, "You will be transitioning [between classes] more, but students seeing your teachers every day and building that relationship with them will be very beneficial."
Legan also understands this will bring challenges for students, but he says The Option will now be available to all four grade levels. He said, "The Option gives you larger chunks of time and more time with your teachers including one-on-one time."
While Deaton thinks it's possible students could have multiple tests in a day, he also thinks having more time in class together could result in fewer tests. He said, "We see you more often and have more options which can decrease the overlap in testing with other classes."
Freshman Rhea Deshpande prefers the current block schedule because she enjoys having 90-minutes with each teacher. She said, "I don't have to switch my brain to each class as often. It will be stressful because they are going to have to learn how to adjust to a bunch of classes in one day, and they're going to have to finish homework in one night for [up to] eight classes."
On the other hand, senior Charlie Klein has experienced both schedules and prefers the eight-period schedule. He said, "I liked having all my classes every day because if you miss a day of school, you're only missing half the work. I also think it is better for keeping my skills on-point for different classes like Spanish and math where you need to practice every day."
Deaton believes the benefits of eight periods depend on each individual student. He said, "Some students do really well with block and appreciate having the day in between, focusing only on four classes. Some people do not function as well when having too many classes, as homework can add up."
Eight periods is the new schedule for the next several years and Legan believes students will get used to it. He said, "What we are doing is trying to create the least disruptive schedule for many of us. We lived the eight-period schedule a long time, and we think our students have benefited from it academically, socially, and emotionally."