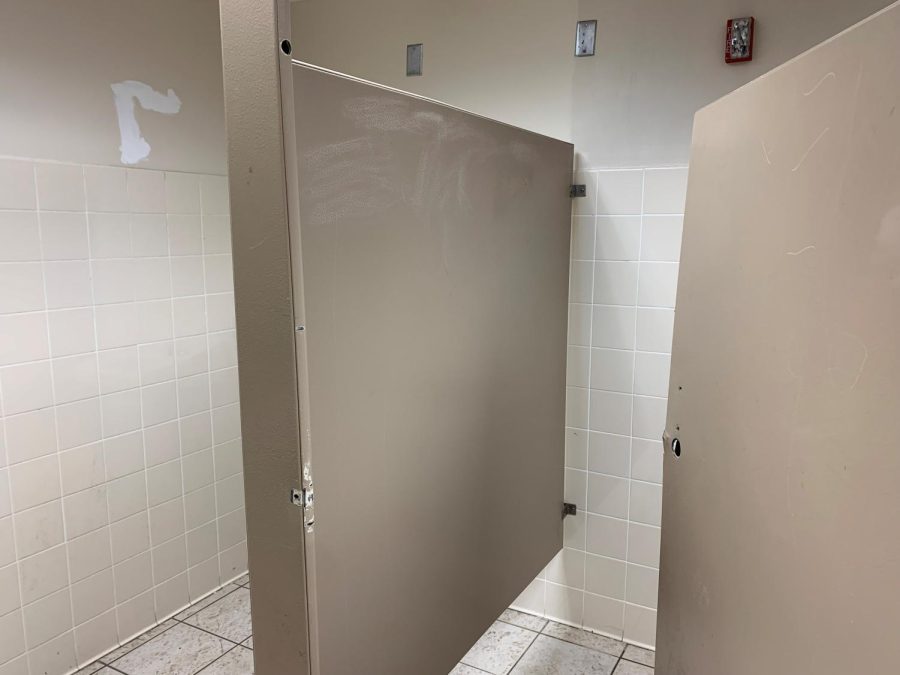 Staff Photo
From food splattered along the walls and urinal tops being kicked off, to stall doors being torn off their hinges and flooding caused by toilet-stuffing, the bathrooms of Mayfield High School have been put through the wringer lately.
In response to the extensive damage, administration put in place a single, monitored bathroom, with a limit of three people being allowed inside at a time for a week-long period earlier this month.
As stated by the student handbook, vandalism and disregard to school property will not be tolerated and the school board should "vigorously pursue recovery of all damages." According to page 31, listed under the code of conduct rules: "Students who cause damage to school property shall be subject to disciplinary measures, including suspension and possible recommendation for expulsion."
Principal Jeff Legan says it's sad it had to come to this. He said, "I want people to be able to use the restroom… It's not just us administrators trying to cause an inconvenience, but we need to send a message… enough is enough."
In his Smore newsletter on Feb. 2, Legan announced the restroom closure to parents and students. He wrote, "Urinal tops have been kicked off and toilets have been clogged with t-shirts and other items causing major flooding. Additionally, stall doors have been torn down and graffiti decorates the restroom walls."
While the vandalism intensified in late January and early February, the bathroom issues have been occurring since the beginning of this school year, according to assistant principal Jarrod Mulheman. He said, "The main culprit behind the vandalism back then was the Devious Licks trend on Tik-Tok, where we had multiple things happening throughout the building like the signs around school being pulled off and the hand sanitizers being broken off."
Mulheman believes the bathroom vandalism isn't unique to Mayfield alone. He said, "Other schools are dealing with this and have been dealing with this ever since the Devious Licks thing came about."
In addition to the monitored one-bathroom-only situation, assistant principal Deanna Elsing and the rest of the administrators are issuing even more serious consequences to those who caused the damage. "We are also involving Officer Stuart [Galicz], and we are filing police reports… and charging the students to pay restitution," Elsing said.
Mulheman feels the hardest part for administration is dueling out the punishment to all students. "It's such a small percentage of kids who are doing this— but now everyone's kind of paying the price for it, and we hate that; but, we have to make sure that we're having a safe and secure environment with kids here," he said.
While administration isn't sure why the vandalism is still ongoing, they are determined to focus on bettering the future. "I'm not asking people to come and tell me who did it. I just want things to change," Legan said.
Legan hopes students will come to be more respectful of what they have. "It's costing them money— it's costing their parents money— to do this. You know, you wouldn't do it at home, so why do it here? I don't want them to do it here because this school is meant to be like their second home," he said.
Elsing wants students to take care of the school. She said, "I know my parents always taught us to take care of your things… Our school is our thing. We're going to do what we need to do to take care of it… just like we need to take care of each other."