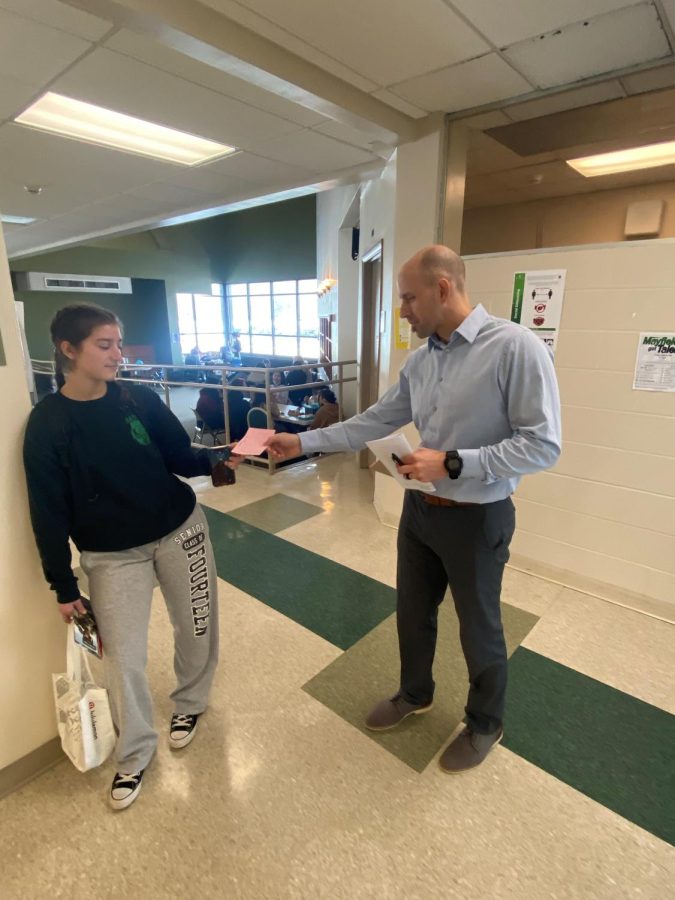 Kevin Bluffestone
While the school year started with a digital hall pass system, teachers are now issuing pink hall passes to students who leave class.
Principal Jeff Legan noticed that the digital passes (which asked students to scan a QR code) were not being used all the time. He said, "[Students] pretended like they were scanning out with the QR code, but they actually didn't. [Using the pink passes have] just made it a lot easier, and we are just trying to streamline it better."
The change was told to students in January after Legan evaluated the success of the QR code system in the first semester. Legan said, "We talk regularly as an admin team, as department chairs that represent each department, and we are always problem solving and looking at things to make them better."
According to Legan, students walking the halls without an approved pass became an area to address. "You will now see staff stationed along certain points in the building because students were just wandering in the halls, and it just made it a safety and security issue," Legan said.
English teacher Jennifer Cioffi is one of the staff members stationed in the hall, as she was assigned to oversee the Senior Commons during lunch on white days. "Hall passes are definitely back. During lunch time, I'm ripping off a lot of passes, especially towards the end of the lunch period," she said.
While the pink passes allow staff to see which students are allowed to be out of class, Cioffi thinks they also disrupt her teaching when students ask to leave the classroom. She said, "I am usually grading [a speech] or giving an assessment, so I don't want to turn my attention to writing a pass. I appreciated the digital pass for that matter."
Student council president Nadia Gerbasi also preferred the QR code hall passes because it didn't disrupt class. "The virtual ones were nice because we didn't have to wait for a pass to be filled out. You kind of filled it out on your way.. you just kind of walked out and did the pass," she said.
However, Gerbasi says she understands the decision to remove the QR codes. She said, "Someone can say they filled out the online pass [but they actually] didn't, so the pink hallway passes are probably more efficient in that manner."
Legan assures students that his decision to change the hall pass system was about best practice. "Whether we are dealing with COVID or not, we just think that the pink passes are easily identified, and it really helps our staff have a better time looking at them," he said.