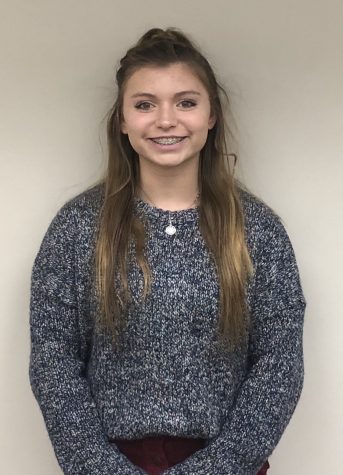 Rebecca Fritz is a junior staff member of The Paw Print.
Fritz went to the Assumption of the Blessed Virgin Mary in Geneva up until 6th grade and transferred to Mayfield in 7th grade. When she was younger, she enjoyed writing her own songs and stories, even though she can't sing. She also used to love reading, but admits that as she grew older, her passion for books dwindled down. Fritz took the news writing course her sophomore year with Mr. Somich. She realized that she genuinely enjoyed the course, and when Mr. Somich recommended her to take Honors News Writing, she was all in.
Aside from school, Fritz loves gymnastics, hanging with her friends, and spending time with her family and puppy. She has been doing gymnastics since she was two years old and plans on continuing throughout college.
You can contact Fritz on Twitter @fritzrebecca.
Becca Fritz, Staff Writer
May 27, 2019

Opinion: Athletes should work hard over summer

(Story)

May 17, 2019

Senior swimmer commits to Kenyon

(Story/Media)

May 10, 2019

Texas Roadhouse serves affordable, tasty food

(Story)

May 05, 2019

Parents planning After Prom at Play Arcade

(Story)

Apr 29, 2019

Military recruiters meet Mayfield students

(Story)

Apr 12, 2019

Cast of 'Shrek: The Musical' make improvements for final shows

(Story)

Apr 05, 2019

Junior class reduces cost of prom tickets

(Story)

Mar 15, 2019

Teacher 'staches raise money for St. Baldrick's

(Story)

Mar 08, 2019

Peace Core organizes blood drive

(Story)

Mar 04, 2019

Talent Show performers prepare for annual show

(Story)

Feb 22, 2019

Gymnasts take on responsibility of set-up, tear-down

(Story/Media)

Feb 19, 2019

New self-paced program sparks excitement for chosen teachers

(Story)

Feb 06, 2019

Winter student-athletes cope with cold days

(Story)

Jan 29, 2019

Two student athletes further their career with signing day

(Story/Media)

Jan 18, 2019

Starting center misses basketball games due to injury

(Story)

Dec 20, 2017

Damon's right: Despite outlash against men, there are good guys in Hollywood

(Story)