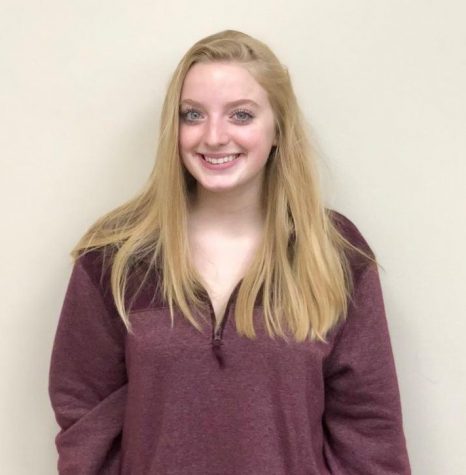 Emily Byrne is a junior staff member at The Paw Print.
She has attended Mayfield since preschool and has been writing pieces of all topics and types since she was 5 years old. She enjoys reading, binge-watching a variety of Netflix shows, and spending time with her weird friends. Byrne loves her dog Ava, even though she sleeps and sheds on her pillow at night. Byrne also enjoys buying lots of clothes she never ends up wearing that accumulate on the floor of her closet. She has a large family, including six aunts and uncles, all with children who have children, and so on.
Byrne's mom has always supported her passion for writing and she thinks that's why she enjoys it today.
You can contact Byrne on Twitter at @eemilybyrne.
Emily Byrne, Staff Writer
Dec 20, 2018

Teachers use Schoology differently

(Story/Media)

Dec 07, 2018

New Raptor security system will increase school safety

(Story/Media)

Dec 04, 2018

Student council promotes yearly Breakfast with Santa

(Story)

Nov 16, 2018

Gymnastics team suffers injuries but looks at the positive

(Story)

Nov 13, 2018

Many seniors skip out on school

(Story)

Nov 10, 2018

English teacher refers to music producer in lesson

(Story)

Oct 21, 2018

Opinion: Teens shouldn't trick or treat

(Story)

Oct 16, 2018

Students motivated by poetry field trip

(Story/Media)

Oct 08, 2018

Passionate teen poet experiences many opportunities

(Story)

Oct 05, 2018

Local man trespasses school, causes lockdown

(Story)

Sep 14, 2018

Homecoming week: Many students choose not to attend dance

(Story)

Aug 31, 2018

Students find difficulty with Schoology, administration remains optimistic

(Story/Media)

Nov 30, 2017

Varsity football overcomes adversity, pressure

(Story)

Oct 08, 2017

Opinion: Studies show more sleep needed, start school later

(Story)