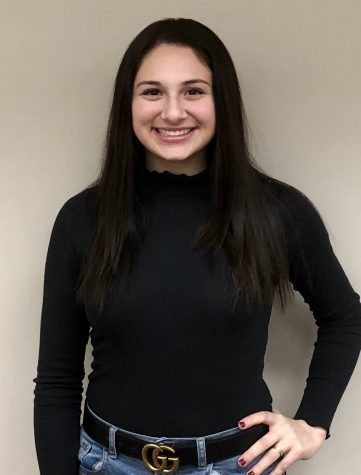 Juliana Fimiani is a senior staff member at The Paw Print.
She attended St Paschal's and eventually transferred to Mayfield in the seventh grade. Through the many years of her education, Juliana has always had a passion for English classes that had writing involved. When essays were assigned and everyone was complaining, Juliana was eager to complete them. In her sophomore year, Juliana signed up for her first news writing class with Mr. Somich. She enjoyed the course and knew that honors news writing would be perfect for her junior year! Outside of school and work, she enjoys spending time with friends and family, and listening to her favorite music. She also loves going shopping for more clothes that she doesn't need, and binge watching her favorite tv series "Friends."
After high school, Juliana hopes to attend Kent State to major in Interior Design but still wants to use her love for writing throughout her life.
You can contact Juliana on Twitter at @julianafimiani5
Juliana Fimiani, Staff Writer
May 24, 2019

Students have mixed opinions on After Prom

(Story)

May 17, 2019

Students frustrate hall monitors

(Story/Media)

May 09, 2019

Granite City stuns with quality of food, atmosphere

(Story/Media)

May 06, 2019

Seniors near graduation, prepare for next chapter

(Story)

Apr 30, 2019

Girls seek to find the perfect prom dress

(Story)

Apr 15, 2019

Varsity baseball team takes on Arizona

(Story)

Apr 05, 2019

Students help 'pop' world record for largest bubble

(Story)

Mar 15, 2019

Veteran English teacher plans to retire in May

(Story/Media)

Mar 08, 2019

Winter Choir concert goes well

(Story)

Mar 05, 2019

Performers for Open Mic Night start preparing

(Story/Media)

Feb 22, 2019

Students going to upcoming winter dance are excited

(Story/Media)

Feb 15, 2019

Opinion: High schools should stop having homeroom

(Story/Media)

Feb 07, 2019

Mayfield City Schools hosts gala fundraiser

(Story)

Jan 28, 2019

School officials create new self-paced schedule for seniors

(Story/Media)

Jan 17, 2019

Juniors prepare for future by attending career day

(Story/Media)

Mar 13, 2018

Popular Netflix series does more harm than good

(Story)

Mar 09, 2018

In Loving Memory of Stevie Grieshammer

(Story)

Feb 19, 2018

Local mom's loss sparks hope for others

(Story)