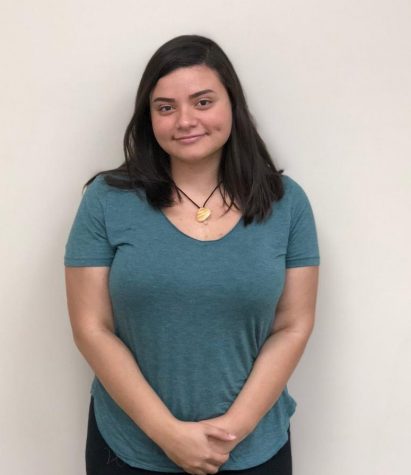 Krista Rice, a senior, is proudly a staff member of The Paw Print. In her senior year, Krista decided to take Honors News Writing to bring back good memories from when she took the regular class her sophomore year. She has loved to write from a young age and has also taken Creative Writing both her junior and senior year. Growing up, she would write stories with her friend Sophia, and read them to her parents, and still continues to write in her free time.
Krista tends to be pretty quiet in many ways, but when she has a strong opinion on a topic, such as equality, the treatment of animals, and the environment, she becomes very passionate and outspoken. She has been a vegetarian for two years and is also one of the leaders of Women's Studies Club at MHS this year.
Her hope is that people will read her stories and end up being informed on certain topics that may be helpful to them as well as to change false perceptions that people may have of the world and the people who live in it.  Follow Krista on Twitter @KristaRice525.
Krista Rice, Chief Editor
Apr 22, 2019

Seniors speak out about superlatives

(Story)

Apr 05, 2019

Seniors give advice on choosing the right college

(Story/Media)

Mar 07, 2019

Seniors start scholarship process

(Story)

Dec 16, 2018

Christmas traditions vary among students

(Story)

Dec 07, 2018

Students work towards Scholastics writing contest deadline

(Story/Media)

Dec 07, 2018

Language barrier impacts student learning

(Story/Media)

Nov 18, 2018

'The Holiday Calendar' spreads messages for Christmas

(Story)

Nov 09, 2018

Senior girls begin final basketball season

(Story)

Nov 02, 2018

Seniors compete to raise money for United Way

(Story)

Oct 30, 2018

MHS teachers pass out candy on Halloween

(Media)

Oct 24, 2018

Environmental Science learns about climate change

(Story)

Oct 12, 2018

Students share their creative voices at KSU

(Story)

Oct 08, 2018

Mayfield pays tribute to Stevie Grieshammer

(Story)

Sep 28, 2018

School activities keep students busy

(Story/Media)

Sep 14, 2018

Students keep busy with writing college essays

(Story)

Aug 30, 2018

Women's Studies Club spreads awareness on campus

(Story)

Dec 21, 2016

Amazon drivers pushed too hard during holidays

(Story)

Nov 15, 2016

Reading the key to long life

(Story)

Nov 15, 2016

Student Council paves way for school spirit

(Story)