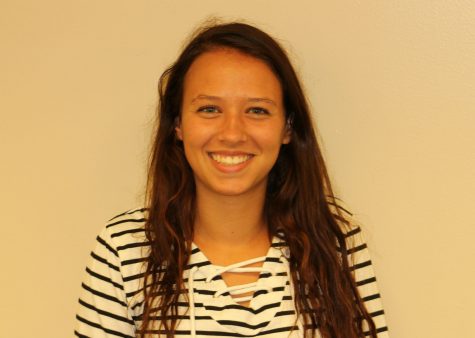 Megan Agresta is a junior and this is her first year on The Paw Print staff.
Sophomore year Megan took News Writing as a communication credit. She really came to enjoy the style of writing, making her want to join the school newspaper the following year.
Other than being on The Paw Print staff, Megan is also a varsity football cheerleader and is involved in other extra curricular activities such as Spanish Club, Student Council, and Cats Cabinet.
Megan Agresta, Staff Writer
Feb 15, 2017

Split cast and plot entertains viewers

(Story)

Nov 23, 2016

What Mayfielders are most thankful for

(Story)

Nov 15, 2016

Mayfield girls soccer team season comes to a close

(Story)

Oct 30, 2016

Piada offers unique, exciting foods

(Story)

Oct 18, 2016

Fall Fun Festival brings together community

(Story)

Sep 07, 2016

Community makes difference for Mayfield family

(Story)

May 24, 2016

PRO: iPhone 7 leaks reveal exciting, new design plans

(Story)

May 23, 2016

Mayfield Heights outlaws cell phone use while driving

(Story)

May 11, 2016

Sophomore plunges into pool of terror

(Story)

May 04, 2016

Graduation brings senior year to an end

(Story)

Apr 08, 2016

Yours Truly gratifies families, friends

(Story)

Apr 08, 2016

Mayfield Spanish Club unites students

(Story)

Mar 08, 2016

Top 5 reasons to volunteer

(Story)