Raising Cane's satisfies hyped customers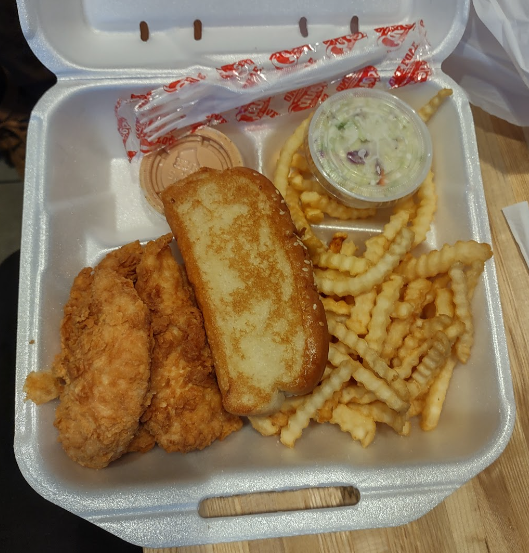 Going out to eat with friends is a great way to spend your time. With the opening of Raising Cane's, we decided to treat ourselves over Winter Break to a delicious chicken lunch. With short wait times and hot food ready to go, the new Mayfield Heights Raising Cane's met our expectations for a savory lunch.
For starters, we ordered two Caniacs ($14.45 each), which came with six chicken fingers, Texas Toast, crinkle-cut fries, coleslaw, and two Cane's sauces.
Next, we ordered a Box Combo for $9.59, which came with four chicken fingers, crinkle-cut fries, one Cane's sauce, Texas Toast, and a drink.
Lastly, we ordered a Sandwich Combo for $8.49, which came with Cane's sauce, lettuce, a kaiser roll as a bun, and crinkle-cut fries, and we ordered a lemonade along with it.
After a 10-minute wait at most, our food came hot and ready to be devoured. Our whole table's meal came to $46.98, but for having four people at a table, the prices were fair.
My Caniac Combo tasted great, and the sauce was exceptional for dipping. The Texas Toast that came with it was soft and pillowy. The top had a slight crunch from being cooked to perfection.
Junior Matt Roberts ordered the Box Combo. He said about his Cane's experience as a whole, "It's really good food with great customer service. They have a nice, clean dining area, and in terms of food, it's really good and I'd recommend the Caniac Combo."
Junior Cameron Boscarelli was unamused by some of his meal's contents, but he was very pleased with the quality of the sauces in the Caniac Combo. He said, "The chicken is dry but the sauce carried. The bread was heavenly but the coleslaw looked foul. I didn't try it, but it looked foul."
Junior Jaden Belle ordered the Sandwich Combo. He said, "Everything is so crispy and tender. I would especially recommend the lemonade."
For average prices and a short wait time for some tender, juicy chicken, Cane's is definitely worth the hype. The "wow factor" is hard to reach, but Cane's delivered and satisfied our cravings for chicken. I would give it 5 out of 5 chicken tenders.