Book Talk: January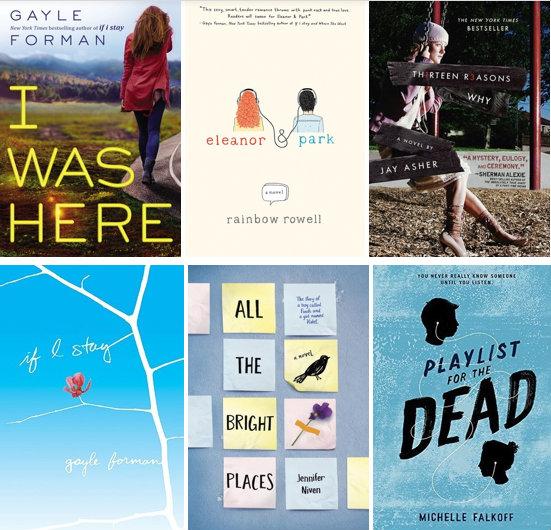 YOUNG ADULT FICTION – IF YOU LIKED, TRY, WHY
IF YOU LIKED If I Stay by Gayle Foreman
TRY I Was Here by Gayle Foreman
Many fans of Gayle Forman's emotional and stunning debut, If I Stay, have eagerly been waiting for her next contemporary YA, and the month of release is finally here. I Was Here follows a teenage girl's search for answers, after losing her best friend to suicide. It's sure to be just as heartbreaking and beautiful as Forman's previous work, and isn't likely to disappoint.
IF YOU LIKED Eleanor & Park by Rainbow Rowell
TRY The Bright Places by Jennifer Niven
Even if the logline for this debut wasn't compelling enough, the cover seems to grasp the exact mood I want from my YA contemporaries. This novel is gripping and intense, and "Finch and Violet" are definitely going to become the next fictional couple that all the fangirls swoon over. Like Rowell's hit, All the Bright Places is a sweet romance delightfully balanced with a realistic darkness.
IF YOU LIKED Thirteen Reasons Why by Jay Asher
TRY Playlist for the Dead by Michelle Falkoff
Apparently, January is a great time for nitty, gritty, coming-of-age novels that deal a lot with death. At least they make for good, albeit slightly depressing, reads. Playlist for the Dead has the whole "learning more about someone who died through what they left behind" concept of Thirteen Reasons Why, but with more than enough character to stand completely on it's on.
YOUNG ADULT FICTION – ALSO LOOK OUT FOR
A Cold Legacy – Meghan Shepherd
I was first drawn to this trilogy, well, mostly because I have a thing for books on the darker side, and the first book is called The Madman's Daughter, and was inspired by H.G. Wells' The Island of Dr. Moreau. It turned out that this gothic series had everything I wanted and more, not to mention the fact that each book is inspired by an amazing classic. (The second was Dr. Jekyll and Mr. Hyde, which could have two million adaptations and I would never complain.) This final book in the trilogy, inspired by Mary Shelley's Frankenstein, gives a heart-stopping conclusion to a worthwhile series.
The Darkest Part of the Forest – Holly Black
Some may recognize Holly Black from her Curse Worker's series, or from her work on the popular Spiderwick Chronicles. Although The Darkest Part of the Forest still falls in her normal range of fantasy, branching the human and fae worlds, it does it in a way quite different from all the novels we've seen before. I'm talking a girl discovers glass coffin in the depths of a woods containing a non-human boy who's been asleep for generations and is just waking up now kind of different. What a way to meet a guy.
The Ghosts of Heaven – Marcus Sedgwick
Apparently, January releases are slaying with their cover art. I know, I know, we don't judge books buy their covers (even though we secretly all totally do) but the US edition of this novel has one of the greatest covers I've seen. I'd get that on a t-shirt. Not to mention, this science fiction/historical fiction novel that crosses time from caves in the past to a spaceship in the future seems incredibly awesome. Do I smell a clear choice for a future movie deal? (I'm crossing my fingers.)
FICTION – Wait…this was a book first? (From Page to Screen)
True Story: Murder, Memoir, Mea Culpa – Michael Finkel
You probably haven't heard of this book, but like many other respectable and controversial works before it, it was made into a movie by James Franco, releasing this month. The novel tells the story of The New York Times journalist, Michael Finkel, who comes in contact with Christian Longo, a murderer on the FBI Most Wanted List who had been living in Mexico under Finkel's identity (played, in the film, by Jonah Hill and James Franco, respectively). This suspense/thriller will probably have you staying up way later than you should to finish. So read before you watch the movie. Or read it after. I won't judge.
Inherent Vice – Thomas Pynchon
In case you weren't already intrigued to this novel by the movie adaptation trailer (which looks fantastic) and Joaquin Phoenix's facial hair, then perhaps the description of "part noir, part psychedelic romp" will get to you. Personally, I feel like that should be it's own genre. One that I'd like to become very invested in. This takes comedy, mystery, and action, and rolls it all up into one crazy plot with a wonderful cast of characters at the end of the sixties in L.A. Yes. Groovy, indeed.
The Mortdecai Trilogy (Don't Point that Thing at Me, After You with a Pistol & Something Nasty in the Woodshed) – Kyril Bonfiglioli
Before it was a Johnny Depp movie, it was a novel trilogy. Initially released in the 70's by British author, Kyril Bonfiglioli (see, authors, it's never too late to get your work on the silver screen). It is quite the comedic romp that follows Charlie Mortdecai (quite the character) an art dealer who gets caught up in dark activities. With the first book being the best and the rest of the series going progressively downhill (yeah, never heard that one before), it's still one to give a try.
FICTION SPOTLIGHT
It's Always Sunny in Philadelphia: The 7 Secrets of Awakening the Highly Effective Four-Hour Giant, Today by The Gang
The Gang (Frank, Charlie, Mac, Dennis and Dee) from the hit comedy series, It's Always Sunny in Philadelphia, wrote a self-help book. I'm not sure if there's anything else I can say, but you can be sure I'm purchasing this one the day it releases. I'd have donkey brains not to.
WHAT I'M READING – JANUARY
Feel free to find a copy (libraries always rock if you don't go for the whole "spending money" thing) and read along. That way you can start discussions and tell me how wrong I am when I share my thoughts:
The Beginning of Everything by Robyn Schneider (YA Contemporary)
Summary from Goodreads:
Golden boy Ezra Faulkner believes everyone has a tragedy waiting for them—a single encounter after which everything that really matters will happen. His particular tragedy waited until he was primed to lose it all: in one spectacular night, a reckless driver shatters Ezra's knee, his athletic career, and his social life.
No longer a front-runner for Homecoming King, Ezra finds himself at the table of misfits, where he encounters new girl Cassidy Thorpe. Cassidy is unlike anyone Ezra's ever met, achingly effortless, fiercely intelligent, and determined to bring Ezra along on her endless adventures.
But as Ezra dives into his new studies, new friendships, and new love, he learns that some people, like books, are easy to misread. And now he must consider: if one's singular tragedy has already hit and everything after it has mattered quite a bit, what happens when more misfortune strikes?
Robyn Schneider's The Beginning of Everything is a lyrical, witty, and heart-wrenching novel about how difficult it is to play the part that people expect, and how new beginnings can stem from abrupt and tragic endings.