Red Robin burns all high expectations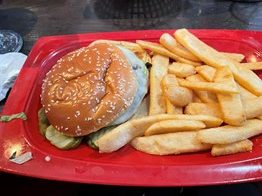 Going out with friends is always fun, so as a group, we chose to go to Red Robin, known for excellent burgers. After being seated, we were shown many reasons why we should have picked a different place. With lousy food and prolonged wait times, Red Robin in Willoughby is now a restaurant I would not recommend.
The drink menu had many different selections, and I chose the Orange Cream Soda, expecting an orange-flavored cream soda, but instead I was given orange soda with whipped cream on top. For the price of $3.79, I got refills on the drink, but it was not worth getting.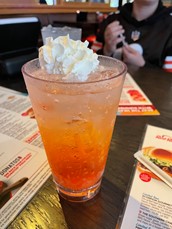 Friends of mine had chosen to pick different flavors of milkshakes because that is what the restaurant advertises as their specialty. The vanilla and Oreo milkshake were both very good, but the chocolate milkshake was not that great, as it tasted like vanilla ice cream with minimal chocolate sauce.
Red Robin offered limited-time menu items, including the Scorpion Gourmet Burger, the Southern Charm Burger, and a Pineapple Chile Margarita.
As a table we decided to get two appetizers, the Fried Pickle Nickels, and Towering Onion Rings, which came out quickly and efficiently, however, they were not good enough to distract us from noticing the 30-minute wait for entrees. The Towering Onion Rings were $10.79, which was definitely not worth the money at all. The onion rings were slimy and the breading crumbled at the touch.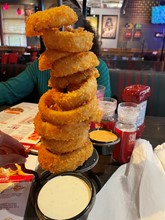 After a long wait, we each received what we ordered, however, it did not live up to the standards listed on their menu.
As a picky eater, I ordered the Keep it Simple burger with nothing on it and asked for cheese. What the menu failed to inform me of was that cheese cost extra. I ended up paying $12.08 for an unappealing meal.
Two other people at our table ordered burgers as well, one ordering the Smoke and Pepper burger for $13.39, and another person ordering the Bacon Cheeseburger for $12.79. We all asked that the center was cooked, but instead we all received burgers that were so burnt, it was unappealing. My bun was soggy, and another person could barely taste anything else besides the crispy char of the burger.
Sophomore Rafaela Nurieva went to the restaurant as well, ordering the Bacon Cheeseburger. She said, "My food was good, but the bottom of the bun was a little soggy and the actual patty was significantly burnt to the point that I didn't want to finish it."
The burgers were burnt to the point of inedibility.
Another place close to Mayfield that specializes in burgers is Burgers 2 Beers, which may not be as family-friendly as Red Robin, but their burgers are much better in the sense of cooking it correctly.
The fries were amazing – nicely cooked and well-salted. Another person at our table ordered a salad, which he enjoyed. But even though the fries and salad were fantastic, a burger place lacked excellence in the category they advertise being the best in.
Our server was kind and helpful, very professional and effective. She was patient and knew how to do her job. However, the waiter that helped her bring out the food messed up our order, trying to give us the other table's order.
At 4:00pm on a Sunday, the restaurant was basically empty, and there was no wait for a table. The dining room was sanitized and clean. It also had many cool works of art and interesting lighting.
Nurieva agrees about the restaurant. She said, "A positive thing was the overall environment and vibe of the restaurant, which was very nice and accommodating."
Overall, I enjoyed my time with my friends, but going to a burger restaurant and receiving a sad, burnt burger was not what I was expecting. The disappointment that was on the plate really shapes the rating. On the menu, a stunning burger is advertised, but the actual food was the complete opposite.
After eating at Red Robin, I would give two out of five burgers, and I would not recommend it.