Swift's 'Red' version generates buzz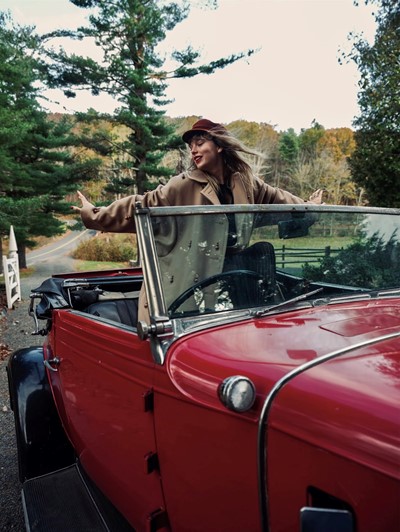 On Nov. 12, Taylor Swift released her new recording of "Red" in order to regain ownership, and many students have been listening to it nonstop.
Senior Megan Linsky has been a long-time fan of Taylor Swift and loves that Swift is re-releasing these albums. She said, "She's releasing them how she always wanted them to come out, and I think it's a really exciting thing for her as an artist, but also for the fans to see what she really wanted to put out."
Although these albums are just re-recordings, Swift has added new songs that are "From the Vault" which are tracks that were supposed to be on the original album, which is a concept that senior Ali Wank loves. She said, "Everyone knows the lyrics, everyone knows the songs on there, everyone knows how the songs go, and adding extra tracks that no one's heard before or songs that were previously unreleased that the fans love, gave the album that extra power that it needed."
When listening to this album, Linsky also noticed a different tone to it. She said, "Before, the album was about loss and she was sad, and now, it's almost like acceptance and there's a whole new feeling to it. "
Fans of Swift were especially excited for the release of her 10-minute version of "All Too Well" which is featured on "Red (Taylor's Version)" as a "From the Vault" track. "All Too Well" was released on the original recording of "Red" as a five-minute song and is a favorite to many.
Wank started listening to Taylor Swift during quarantine and her favorite song was the original version of "All Too Well," so she was blown away by the 10-minute version. She said, "She's getting everything out, and it's almost like this journal or diary entry. It feels so personal, so real, so genuine that it doesn't feel like it's 10-minutes long."
With this 10-minute version, Swift wrote and directed a short film to go along with the song starring Sadie Sink and Dylan O'Brien. Senior Stevie Michinok, who's been listening to Swift since she was little and became obsessed with her in the past year, was blown away by this film. "Dylan O'Brien and Sadie Sink did so well and acting along with the song made the lyrics come to life," she said.
Taylor Swift specifically cast Sink and O'Brien for this short film because they mirrored the age gap that Swift and Jake Gyllenhal, who "Red" is allegedly about, shared at the time of their relationship. Michinok thought that it added to the film. She said, "I think it captures the dynamic between Taylor and Jake and you could see how young she really was… the age gap making you feel uncomfortable was something that I think Taylor wanted you to feel."
Something that Swift does before almost every announcement is drop hints or Easter Eggs in the things that she posts and comments, which Wank enjoys. "Finding the little clues, it almost makes you sound crazy when you say, 'She posted this one word so that means that 'this' album's [re-recording is] next.' During the summer she announced a brand new album 24 hours before the release day, and it was insane… That's just who she is," she said.
Michinok also loves this concept because it makes her feel like a detective. She said, "I'll search for little things in everything she posts that might announce another album or future albums, and it's fun."
"Red (Taylor's Version)" has a total of four featured artists on this album and Linsky thinks that having these artists added a different level of artistic talent. She said, "She's so talented on her own, and I think in each song, she perfectly chose how each artist was added into the album."
Taylor Swift signed a deal with Big Machine Records when she was 15-years-old where she wrote and produced six albums. Last November, her contract with them ended and she signed a new deal with Republic Records. Scooter Braun and Scott Borchetta worked with Swift when she was with Big Machine Records and bought the masters to her first six albums, meaning that any profit made would go to them instead of Swift.
To combat this, Swift decided to re-record her previous albums that Braun and Borchetta now owned and add (Taylor's Version) at the end of them in order to reclaim ownership of her music. She re-released "Fearless (Taylor's Version)" back in April and "Red (Taylor's Version)" last week. A few songs from the new albums have even surpassed the original recordings in streams.
Critics of Swift think that she's only re-recording these albums for money, but Wank disagrees. "I think it's less about the money itself and more about the money not going to someone abusive – someone who doesn't deserve it and who wasn't involved in the writing of the songs or the backstory of them. [The songs are] all so personal to her that she deserves the full credit to them instead of other people," Wank said.
This re-recording didn't disappoint Wank and she encourages everyone to listen to it. "It's such a personal and beautiful album that everyone should listen to and appreciate," she said. "Red (Taylor's Version)" is available for free on all streaming platforms.
Album tracks:
State of Grace (Taylor's Version) 4:55
Red (Taylor's Version) 3:43
Treacherous (Taylor's Version) 4:02
I Knew You Were Trouble (Taylor's Version) 3:39
All Too Well (Taylor's Version) 5:29
22 (Taylor's Version) 3:50
I Almost Do (Taylor's Version) 4:04
We Are Never Ever Getting Back Together (Taylor's Version) 3:13
Stay Stay Stay (Taylor's Version) 3:25
The Last Time (Taylor's Version) (Ft. Gary Lightbody) 4:59
Holy Ground (Taylor's Version) 3:22
Sad Beautiful Tragic (Taylor's Version) 4:44
The Lucky One (Taylor's Version) 4:00
Everything Has Changed (Taylor's Version) (Ft. Ed Sheeran) 4:05
Starlight (Taylor's Version) 3:40
Begin Again (Taylor's Version) 3:58
The Moment I Knew (Taylor's Version) 4:45
Come Back…Be Here (Taylor's Version) 3:43
Girl At Home (Taylor's Version) 3:40
State Of Grace (Acoustic Version) (Taylor's Version) 5:21
Ronan (Taylor's Version) 4:24
Better Man (Taylor's Version) [From the Vault] 4:57
Nothing New (Taylor's Version) [From the Vault] (Ft. Phoebe Bridgers) 4:18
Babe (Taylor's Version) [From the Vault] 3:44
Message In A Bottle (Taylor's Version) [From The Vault] 3:45
I Bet You Think About Me (Taylor's Version) [From the Vault] (Ft. Chris Stapleton) 4:45
Forever Winter (Taylor's Version) [From the Vault] 4:23
Run (Taylor's Version) [From the Vault] (Ft. Ed Sheeran) 4:00
The Very First Night (Taylor's Version) [From the Vault] 3:20
All Too Well (10 Minute Version) (Taylor's Version) [From the Vault] 10:13