Tommy V's creates delicious Italian cuisines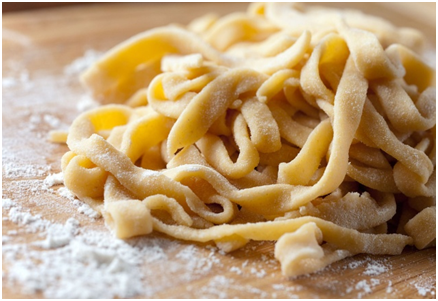 In an area packed to the brim with delectable Italian eateries, Tommy V's Pastaria raises the bar a notch higher.
The black and white photographs on the walls and the old school Coca-Cola cooler in the corner capture the essence of a simpler time, not only for Italian-Americans, but for anyone with a passion for good food. The music gives glimpses of Toscana with the sound of a relaxing mandolin strum away as you dine on the Italian equivalent of comfort food.
Tommy V brings with him a mouth-watering arsenal of traditional Italian dishes while also putting his own twist on old favorites, like a square pizza that is the best in the neighborhood!
The thick slices of sausage harmonize with the house made sauce and cheese that is the perfect previews to the signature crust that has the essential amount of crunch. A large pie starts at $13.00 and costs another dollar for each topping—a sweet deal considering the quality of ingredients that are used.
Unlike other areas pizzas, like Romeos or Jets that put emphasis on the sauce, Tommy V makes sure the focus of his slices is on the crust and ingredients to create a match made in pizza heaven.
Another house favorite is Tommy V's famous Italian Beef sandwich ($7.00-$9.00)—which is a delicious combination of juicy meat with hot peppers stacked high over the homemade sesame bun. Each bite is a tender mouthful of the marinated beef with a snap of the flavor coming from the flavorful giardiniera. It isn't the most flattering dish though—as it does get a bit messy after a while! I suggest ordering one if you remembered to wear a bib!
Of course, why else would anyone go to a place called Pastaria than for one main reason…THE PASTA!
Tommy V created the special recipe for his pasta that has just the right amount of flour and is boiled optimally for the perfect texture. The house Chicken Parmesan dish has a thick, breaded cutlet sitting atop a bowl of hearty spaghetti and drowned with the restaurants' signature sauce.
Service and time spent waiting for all this food was quick and efficient. Even with four hungry Pisanos ordering dishes, including two large pizzas, it seemed as if the restaurant welcomed us for who we are—as we munched on homemade bread and had Tommy V himself joke with us while his cooks behind the counter hustled to prepare each dish while also taking several other orders in the process.
"I thought the service was fantastic." said sophomore Lou DeNardo, Italian food lover "It didn't even feel like we were waiting for the food to come out and that made everything just taste better to me!"
The only inconvenience with Tommy V's place is the fact that two of the most pizza friendly days they're closed! It is a terrible burden that I can't curl up with a pie when watching Monday Night Football or enjoy a slice after attending a Sunday morning Mass! But when one owns their own restaurant, I suppose they can be closed any day they feel like!