Timeless 'Peanuts' Christmas special turns 50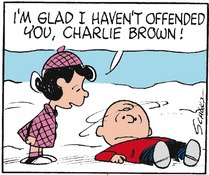 The Black Friday buzz is over and the holiday season has calmed from the concept of door busting deals to what really matters: television!
Well not JUST television—everyone knows during the merriest time of year that TV Christmas specials are what make us get a jolly feeling in the bottom of our eggnog filled bellies.
Upon hearing that Dec. 9, 2015 was the 50th anniversary of my favorite holiday special A Charlie Brown Christmas, I knew I had to honor the classic that's held a place in my heart since childhood.
The legendary Charles M. Schulz comic strip Peanuts celebrated 65 years of bringing us joy in 2015, but it's something about A Charlie Brown Christmas that makes it the most recognizable and beloved Schulz cartoon of all time.
"Of course Charlie Brown Christmas is everyone's favorite," longtime Peanuts enthusiast Brian Francetic said. "It's something everyone grew up watching every year and we all have our favorite moments from it."
There are several memorable moments—like Linus speaking on the true meaning of Christmas, or Charlie Brown's surprised reaction when he comes back to find his once flimsy Christmas tree is covered with beautiful decorations.
Or perhaps it's the final shot of the entire Peanuts gang yelling "MERRY CHRISTMAS CHARLIE BROWN" and breaking into the unmistakable rendition of Hark! The Herald Angels Sing that the even most macho of men can't help but smile and sing along with.
It's at that moment when I hear those children's voices singing those words that I realize that something as simple as a cartoon made 50 years ago can create the emotional spirit of the season that brings the best out in everyone.
This season may be stressful for eccentric gift buyers or overworked department store employees, but when you flip the channel to CBS and see the once hapless Charlie Brown singing raucously to the sky with all of the people who once teased him, a little tear might come to your eye or your heart may grow like the Grinch—and you'll realize that what's lost in the commotion of Black Friday door buster sales is what really matters; that we're here to share this season with the people we love.