WQ: Students embrace hardworking mentality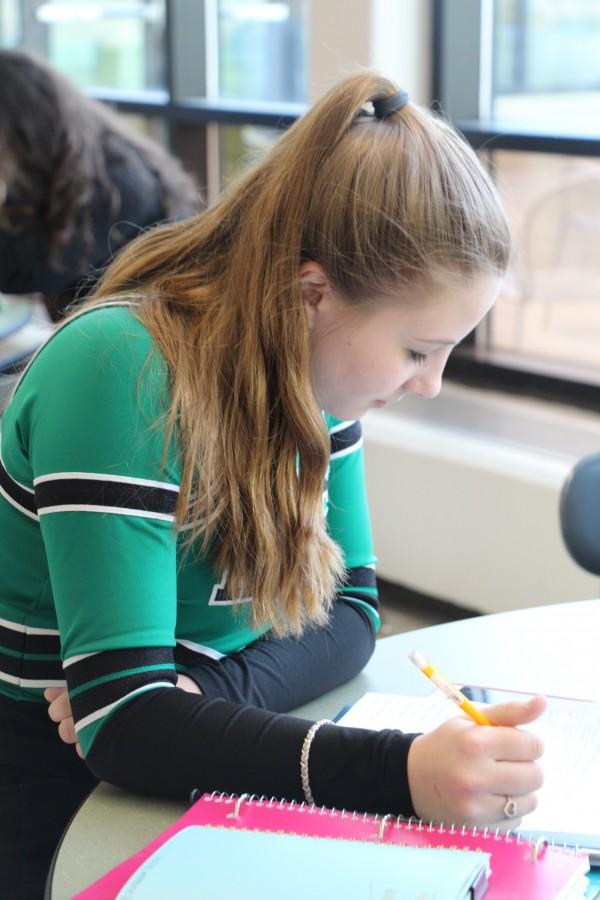 Hardworking—it's an adjective the students of Mayfield High School chose to describe themselves, and they were right on.
From academics, to service, and athletics, the school is filled with dedicated, diligent individuals. The students and staff truly believe in this and their view of what hardworking really means.
"I think it is advantageous that I work hard now," said sophomore Andrea Melaragno. "I will be able to utilize the skills I am developing now later in life."
It is clear that the students wish to continuously improve and better themselves for the future. Spanish teacher Jerry Turk witnesses this for himself quite often.
He said, "I provide extra help for Spanish every morning, and I have a few students that come nearly every day. That is hard work to me because it shows me that they truly want to learn."
This is true for many students. Melaragno serves as an example, finding time to see a teacher for extra help when needed.
"I don't mind coming in early or staying after school because it is important that I do well," she said.
Thus, it is evident that the students at Mayfield strive to go beyond what's there. Teresa Aniev, a junior, thinks so as well.
"We want something more than what is directly available," she said. "The desire to accomplish a task above the standard level is always present."
To her, hard work does not have to do with being extremely knowledgeable either. To achieve and succeed, she believes one must have the correct mindset.
"Although some part of surviving an AP class is intelligence, most of it is attitude," Aniev said.
Of course, the right attitude is also needed when it comes to hard work in athletics.
"I think hard work comes when you have a passion for something," said junior Noah Fredrickson, "because when you care about something you will dedicate yourself to it."
Moreover, he does this himself.
He said, "I'll make sure to go to the weight room or watch film in my free time. I think it's important to make the extra effort that other people might not. This is what will separate me from others."
Michael Verdi, a science teacher and coach, commented on the sports aspect as well. He said, "We've got swim teams that come in before school and after school. They swim twice a day, and the football players are here before school at 5:15 in the morning and lifting."
Verdi also acknowledged the devotion of students in certain activities such as clubs, service work, and student council.
"We've got kids in extra curriculars that travel around Ohio helping the needy—those who can't help themselves—doing what they can for the poor, learning about cultures," he said. "We've got student council kids who stay here all night getting ready for the homecoming dance. They do that for prom and they do fundraising for kids in need."
All in all, the students of Mayfield High School exert great positivity and aid to the community around them—whether they are helping through Key Club, bringing home victories, or shining with academic achievement. These many accomplishments are due to how hardworking the student body always is.
"We're hard workers," Verdi said, "no doubt about it."