University Heights salon styling since '68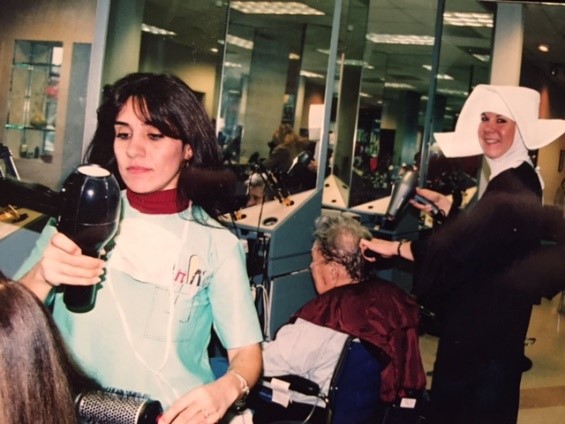 This place has seen it all—beehives, perms, mullets, flattops, ombré, and more. It's a hair salon, of course.
It is named Richard-Carla for Hair and resides in the city of University Heights, and it has been for 47 years.
The owner, Richard Providente, began the business in 1968, but has been styling hair since he was 18. Now 72, he continues to keep up his work and enjoy the salon life with passion.
With maintaining the same business for so long comes numerous changes throughout the years—and it's not only the hairstyles that have altered. The clientele have as well.
"I think the biggest thing about what's different now oppose to when I started," Providente said, "was we used to have clients that would come every week, and they were called standing appointments. It mean that maybe Mrs. Smith came every Tuesday at 11:00 and then Mrs. Jones came at 11:30 and so on and so forth. So, we had 15 or 20 people a day and every week at the same time, the same people came."
He went into further detail about how the numbers have changed in regards to customers.
"You had 50 or 60 or 80 customers and that's all you needed. Well, the business changed so much now because people don't come weekly anymore. They come every six weeks or every eight weeks, and they'll have their hair cut and their hair colored, and then they won't come back," he said.
Therefore, this calls for a new, different system.
"So now you need 400 customers instead of maybe 100," Providente said. "They don't come back as often so you need more of them. That's one of the big changes in the business."
Mayfield junior Galina Rozenberg, a customer of two years at Richard-Carla for Hair, serves as an example.
"I get my hair cut every couple of months," she said, "or whenever I feel my hair is getting too long."
Brittany Pumphrey, a teacher at Mayfield High School, can vouch for this setup as well.
When it comes to her trips to her own, different hair salon, she said, "I usually try to go every six weeks—sometimes if things get really hectic it gets pushed to eight weeks but any longer than that and I want to cut my own bangs. I've learned the hard way this doesn't end well, so it's best I just go every six weeks."
No matter, the salon continuously gains new customers and thrives. Mandana Chriss, a hairstylist at Richard-Carla for Hair, commented on the influx of newcomers.
"Recently, I happened to get more new clients, and it's been happening through people recommending. People have been asking my clients where they get their hair cut," she said. "It's word of mouth."
Chriss stated that the salon used to rely on many regular clients, but in the last few years, some have moved away. These days, many new customers are gained through recommendations of other customers, which is very helpful and good for the salon.
"Or, new customers move into the area and learn about our salon," Chriss said. "Before, it was just routine, regular customers from years and years of knowing the salon being there."
The new customers continue to be satisfied, as the staff constantly keeps up with stylistic changes.
Providente said, as a staff, they "stay attuned to what's new, what the products or hairstyles are, or go to hair conventions or hair shows."
Further, Chriss said, "We have to try to stay on top of the new styles, techniques, and fashion. We have to educate ourselves and know what's going on to bring more business to the salon."
As a result, the customers recognize their work and observe changes in their own hair. Rozenberg said, "I noticed that my hair looks better and healthier, and I like the style of my hair better than I did before."
In her eyes, not only is the end result an upside to Richard-Carla for Hair, but as is the atmosphere—a component of the salon Providente works hard to keep up.
Rozenberg said, "My favorite thing about Richard-Carla for Hair is how nice everyone is and how well they treat their customers. They really listen to my opinions and give me ideas to make my experience easier."
Providente, after 47 years of being in this business, understands how to gain these great reviews—by loving what he does.
"I've always liked the creativity of it. I like doing hair," he said. "One of the benefits of doing hair is seeing somebody after you cut their hair and they're thrilled with the job you've done."
To him, "That's rewarding."
Chriss, too, enjoys her profession, after 16 years of working for the salon.
She said, "Working and interacting with people is what I like about my job—the fact that I get to talk to people. I'm not isolated with what I do. One of the reasons—besides the fact that it's an artistic job—that I went into this field is that I always found hair salons very fun places to work at.
"It's about beauty and happiness," Chriss said.
For Providente, though, it is also about freedom. He enjoys having his very own salon, especially after working hard as a young man to attain it and keep it going.
"I had a real good job at the time and I was just married," he said, thinking back to the year he began the business, "and I was very afraid to do it. I had a lot of bills and I had make sure I was going to pay the bills. That was a challenge for me—I was nervous."
Today though, after all these years, he is content with how things turned out.
"It's nice to own a place," he said. "It makes you feel good that you have your own business—you don't have to take orders from somebody else. Those are good things."
Yet, indeed, it has been 47 years, and Providente is winding down his career slowly.
He said, "I'm not 25 years old anymore, I'm 72 years old."
When it comes to his entire career as a whole, he believes he has had a good one. He "wouldn't change too much" if he could.