Mayfield hosts first model UN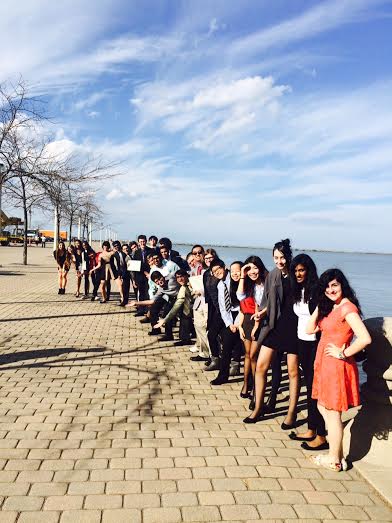 On Thursday, World Affairs Club hosted the very first Mayfield Model United Nations conference.
Students from Orange, Solon, and Chardon came to the school to participate in this Mayfield conference. The officers of the club chaired the three committees—the League of Arab States, the United Nations Office on Drugs and Crime, and the World Trade Organization.
Kent Lui, an officer of the club, took time to learn how to chair and understand the topics of discussion thoroughly.
"I enjoyed being able to chair and watch as an observer how competitors cooperate and compete in moderated and unmoderated caucuses," he said.
For the officers, this opportunity was quite unique. May Xiao, the social advisor of the club, spoke of some of her prior experience, though.
"One week prior to the Mayfield Model UN conference, I chaired a junior CCWA conference," Xiao said, "and that was a middle school conference. It was significantly easier."
All the officers gained great experience and knowledge during this difficult process.
 "The experience was very incredible," Lui said. "Being able to chair a committee was very fun."
Before the fun, though, comes preparation. Hours of work went into this event. Isaac Bykhovsky, another important officer of World Affairs Club, has faced this firsthand many times. 
He said, "Each participant was required to research their country's position on the topic as well as summarize that position into one paragraph. Then, they would use all the info they found to debate a solution to a complex situation, such as how to deal with the Islamic State. As for the officers and advisors of the club, we started planning this in November—creating topics to debate, spreading the word, planning our the spaces, among a slew of other things."
The club put great effort into contacting other schools, so the turnout was just what they were hoping for. Delegates from the other schools seemed to have a great time, too.
"During dinnertime, I went around and I asked the delegates what they thought of it," Xiao said, "and they all gave pretty positive feedback, which really boosted our morale. We feel more motivated."
In Bykhovsky's opinion, all the students had an important, enjoyable experience. He said, "A large part of model United Nations is being able to think on your feet and deal with stressful situations in a coherent matter."
He was able to apply this to his own involvement.
He said, "Running a Model UN conference gave me practical experience with that skill set.  From having to setup rooms and ordering pizza to directing social and economic policy questions,
running MMUN really tested the skills that I have acquired through being a member of other model UN conferences in the past. It all paid off in the end—everyone had a wonderful time and our club made a considerable amount of money."
As the National High School Model United Nations event approaches, the club has been working diligently to raise money for the trip to New York City.
Mayfield's conference itself was rather laid back in comparison to traditional model UN events. The relaxed atmosphere allowed new and experienced delegates to work cooperatively and in ways they usually wouldn't in traditional conferences.
Some fascinating incidences did come up, as Bykhovsky witnessed in his committee, the League of Arab States.
He said, "Debate was moving quicker than I thought it would. In order to stir up the conversation, I had Mr. Hughes, one of the clubs advisors, come in halfway through a debate as a mock reporter to give 'breaking news' to our committee. In model UN, this is known as a crisis committee.
"When this happens, all formalities are adjourned to deal with the situation at hand. In our mock crisis, Turkey had just sent troops into Syria to bolster up oil trade routes between Iran and Turkey. Watching everyone scramble to find a solution was very interesting to see," he said.
Thus, the Mayfield World Affairs Club hosted a successful, stimulating first conference. The members hope to do it again in the future.
Lui said, "It felt amazing to host it. It was certainty a new experience, and I would definitely want to do something like it again."
Xiao agrees and hopes that next year brings even more participants from more schools. She said, "I'm really looking forward to hosting again next year."
To Bykhovsky, the event as a whole was "very stressful, yet rewarding." The praise from the delegates made all the hard work worth it. 
Currently, the club members going to the conference in New York City are in the midst of preparation, having written their position papers and familiarizing themselves with their topics. Mayfield will be representing Syria.
They will be in the Big Apple from March 2-5. The members plan to raise more money for the trip in various ways.