Return of the SI curse: McGregor loses UFC 196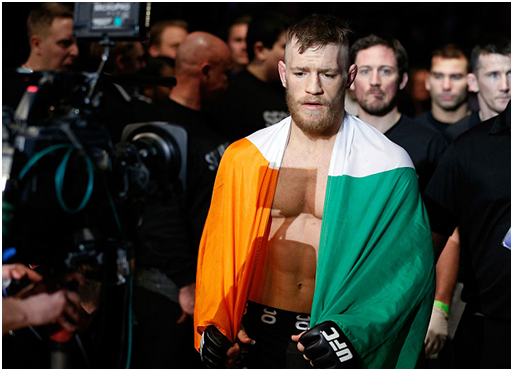 UFC featherweight champion Conor McGregor's loss at UFC 196 proves that the Sports Illustrated cover jinx is alive and well.
For readers who don't know, athletes who appear on the cover of the SI are historically blessed with the burden of the worst luck imaginable.
Notorious instances of the urban legend include Tom Brady getting knocked out for the season in 2008 after appearing on the cover, or Braxton Miller, who just days after his regional cover hit the shelves, re-injured his surgically repaired throwing shoulder, causing him to miss Ohio State's entire 2014 season.
The twenty-seven year old McGregor still has his featherweight crowd and star-power to fall back on, but the loss puts a blemish on his previously squeaky clean UFC record.
McGregor, who was riding a 15-match win streak, was heavily favored going into his match against Nate Diaz.
But he HAD to be on that stinking cover!
The February 29, 2016 issue of SI features the champ looking rough and tough with the caption "Conor McGregor puts the fight in fighting Irish…And fear in the rest of the UFC."
Put simply: CURSES!
The match started well for McGregor, who opened a cut near Diaz's right eye in the early goings.
Of course the end result is all that matters, as McGregor submitted to Diaz giving him only one option going forward.
"I think it's time for me to go back down and defend my featherweight crown," McGregor told Fox Sports. "It's a cut but I've always done it."
It's a gloomy result for McGregor—he was hoping to ride his monstrous momentum to success in higher weight classes, but now he has to work even harder to cut weight so he can defend his title.
Even more interesting is the fact that McGregor was the first UFC athlete to be featured on the SI cover since…Ronda Rousey.
NO I'm not talking about the Swimsuit Issue!
I meant the issue over the summer that showcased Rousey in her UFC gear with the caption "Ronda Rousey is the world's most dominant athlete, (arm) bar none."
In this case the jinx wasn't immediate but rather delayed—as Rousey ended up losing to Holly Holm at UFC 193 on Nov. 15, 2015.
Oh it gets better alright.
The same issue that featured McGregor on the cover also included a "Point After" segment written by Holly Holm detailing her rise to stardom after she defeated Rousey.
And the other huge upset from UFC 196?
Yep you guessed it—Holly Holm LOST the bantamweight championship to Miesha Tate!
Curses indeed.
A final suggestion to all mixed martial artists out there: if SI approaches you for…anything really…RUN! AS FAST AS POSSIBLE!