Hibachi offers fantastic Japanese cuisine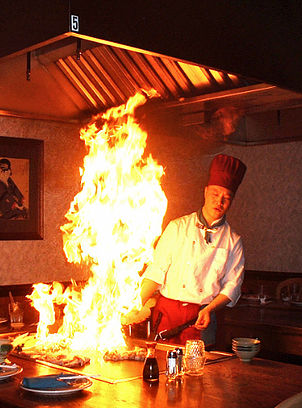 Hang on for a minute...we're trying to find some more stories you might like.
Hibachi is a Japanese restaurant that offers traditional Japanese cuisine, which includes everything from sushi, to chicken, steak, fried rice and more.
Hibachi has five locations, four in Ohio, and one in Erie, Pennsylvania. I had the pleasure of dining recently at the one located in Highland Heights.
At Hibachi, you can choose to either sit at a traditional Hibachi table, with a chef cooking right in front of you, or at a normal table. However, no matter what you choose, the food will be fantastic. Although the restaurant itself is smaller than some other restaurants, there is still plenty of room for everybody.
All dinners include their Japanese onion soup, house salad, two shrimp, vegetables, and steamed rice. You can also get fried rice or noodles for a little bit extra cost.
I decided to start my meal with the Japanese Crab Roll appetizer, which cost $2.
The shell of the crab roll was perfectly crispy, and the inside was filled with cream cheese and crab meat, and had just the right amount of filling. The soup was also good, it arrived to the table hot, and had a nice onion flavor with a good broth. The salad was also great, it included the usual salad ingredients such as lettuce, but was topped with their special "yum-yum" sauce which made the salad even better.
For my entree, I decided to go with the Teriyaki Chicken, which cost $14, and I also had fried rice, which was an extra $2. The Chicken was cooked perfectly and had the perfect amount of sweet and tangy teriyaki sauce on top. The fried rice tasted fresh, and had a nice combination of rice and vegetables.
The vegetables that came with the meal also had the right amount of sauce and seasoning, and tasted fresh. They included vegetables such as zucchini, carrots, and onions. The shrimp were cooked perfectly and were seasoned well.
Of course, when one goes to hibachi they must also have the "yum-yum" sauce, which pairs well with any meal. That is exactly what I did. The sauce was creamy and seemed to be a mix of several different sauces.
Overall, my experience at Hibachi Japanese Steakhouse was fantastic. The service was great, the waitress was knowledgeable, and the restaurant itself had traditional Japanese decor and was clean.
The wait times for food was not long, generally being about 15-20 minutes, just like most restaurants. Of course, the wait times to be seated or for food can depend, just like any other restaurants, on the time that you go.
My only complaint is that the dessert menu at Hibachi is pretty small, and only includes cheesecake, but that being said, the cheesecake was also good, and cost $7. The only other complaint that I have is that the menu items can get a little pricey. That being said, the portion sizes are very good, with enough food to make you full and maybe even have some to take home, and the meal includes a lot of other items, like the soup, salad, shrimp, and vegetables.
Next time you want to experience good food, a good show, and fantastic service, you might want to consider going to Hibachi Japanese Steakhouse. With big portions, you will feel full, and with a great show by the chefs you will be amazed.