Junior class excited to be a part of Powderpuff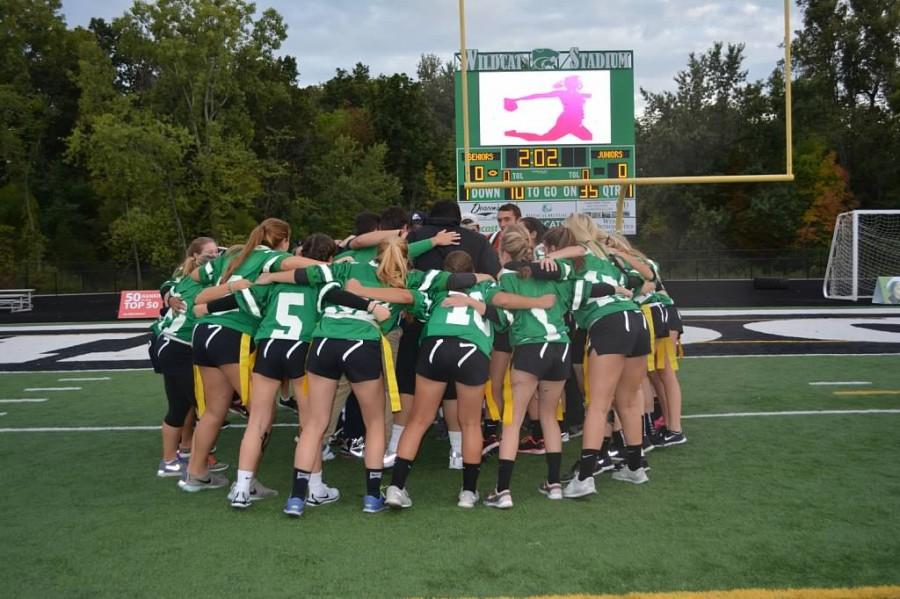 Each year, the high school hosts their annual Powderpuff football game. This year's juniors share why they are excited to finally be a part of it.
Powderpuff Football is a charity game organized by Christine Czikray for the United Way. The teams consist of junior girls against senior girls. The coaches for each team are members of the varsity football team.
Junior Ripley Crosley is excited to play in front of everyone. "It'll be fun to play under the lights like when the football team plays on Friday nights," she said.
Crosley has been interested in participating for a while now. "I went to the game freshman year and it seemed very fun and made me want to join," she said. The uniforms caught her attention the most and she is ecstatic to get clothes with the year she's graduating on them.
Junior Hannah Fredrickson can't wait for the game because she enjoys participating in athletics. "I thought it would be fun to participate in a sport that most girls usually don't compete in," she said. Fredrickson is the wide receiver for the juniors.
Another fun aspect of Powderpuff Football is the amount of people that sign up. "I get to be on a team with a bunch of my friends," Fredrickson said. Even with some girls not playing, the team is still full of girls with a desire to win.
Crosley believes that it's a good way to unite the whole junior class. "It'll be really fun to play with people I don't usually talk to or hang out with," she said.
Junior Anthony Fornaro jumped at the chance to be a coach. "I want to teach people about the game I love. I saw guys coaching the Powderpuff games the past two years and wanted to be a part of it," he said.
Fredrickson thinks that the boys coaching will be entertaining for them. "The boys get a kick out of coaching the girls because we really have no idea how to run any of the plays," she said.
Additionally, Fredrickson believes Powderpuff Football is a rewarding experience which makes the whole thing worth participating in. "At the end of the day, it's all for charity," she said.