Piada offers unique, exciting foods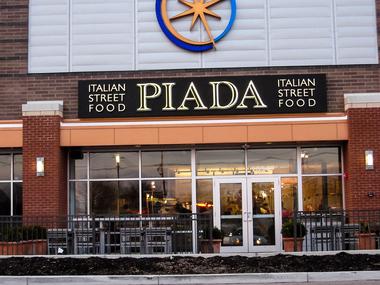 Hang on for a minute...we're trying to find some more stories you might like.
Piada is often described as an "Italian Chipotle."  Its original take on creating your own bowls and wraps attracts and intrigues many customers.
From the first glance, Piada is something spectacular. Just the view from the parking lot draws people in since it's the largest building in its plaza with big and bold lettering. The inside of the restaurant is just as nice as the outside.
When you first walk in the aroma of pasta fills the air, it's an Italian dreamland. If you've never been there before, the menu can be a little confusing though. They have many bowls and wraps already made up on their menu, but you can also choose to create your very own from scratch, which they exclude from their menu.
I chose to make my own bowl; I got long spaghetti noodles, their home style tomato sauce, bacon, and mozzarella cheese. You could also choose to get either a spicy diablo sauce or an Alfredo sauce. Additionally, there are a multitude of different vegetables, cheeses, and meats that you can choose to add onto your bowl or wrap for no extra cost.
As far as the taste goes, if you love pasta, you'll love Piada. Their homestyle sauce had a fresh, zesty taste. Also, their mozzarella cheese was so fresh that you could see them grating it behind the counter.
Everything is to your choosing so there's something on the menu for everyone. Mayfield High School student Andrew Rice agrees that Piada has a large variety to offer. "There are a lot of options. We need to have one in Mayfield," said Rice.
Piada also stays true to their Italian origins by having unique Italian pops and teas. The pops are less sweet than American pops, but they are a good alternative and allow you to experience the Italian culture.
The decor inside resembles a regular Chipotle restaurant. There are metal tables that are seat yourself with either high up stools or regular chairs. However, it did lack important elements such as paintings or artwork that would give the restaurant character.
Another Mayfield High School student, Mackenzie Nicolli, also believes that Piada is a great restaurant. "I absolutely love it," Nicolli said. "It's a different type of restaurant and it's nice to change things up."
Overall, I would rate Piada 4.5/5 stars. They serve unique and authentic Italian food with rich flavor, but the interior could have a little more charm, which would give the restaurant a perfect score.