World Affairs Club wows at Model United Nations conference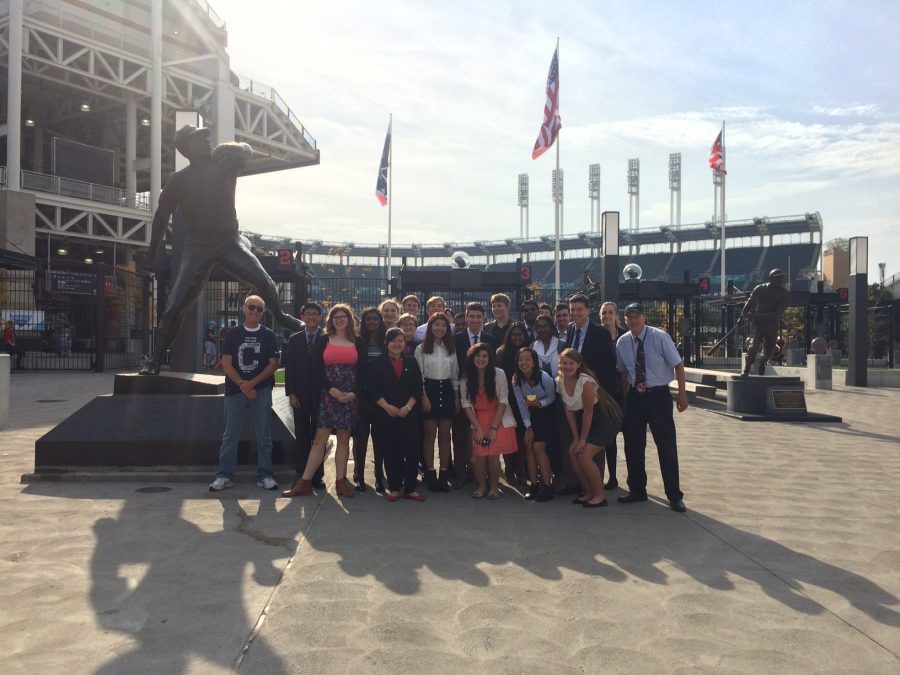 The Indians may have lost, but Mayfield sure knocked one out of the park last week at the Cleveland Council on World Affairs Model United Nations conference.
The World Affairs Club spent two days at the Cleveland Bar Association debating in committees about real-world problems. Through moderated and unmoderated caucuses, the delegations representing various United Nations countries take positions and work out solutions in a cohesive, tactful manner.
Numerous high schools in the Cleveland area participate in this conference every year, and this time Mayfield brought home several awards.
Regarding the success Mayfield has, club advisor Michael Hughes said, "We are consistently strong. This time, we had a lot more winners for the position paper award, which goes to show that we're really strong with our preparation."
Seniors May Xiao and Surya Gopal, representing Turkey in the High Commission on Refugees, won the best position paper award for their committee. As did seniors Arvind Sompalle and Thomas Grieshammer, representing Russia in Security Council. Also, Ilya Yatsishin and Alex You won this award in their committee, the World Health Organization, representing Russia as well.
Mayfield also won two honorable mentions, one belonging to Arvind Sompalle and Thomas Grieshammer. The other was awarded to Ricky Wu and Tomas Padegimas representing Switzerland in the Human Rights Council.
Thus, it is clear that Mayfield's World Affairs Club performs well in these conferences. Yet, really, it is about the experience of participating in such an event.
Hughes said, "Whether you win an award or not, that's not what it's really about. It's authentic learning. It's problem-based learning."
For both the rookies of the club and the four-year veterans, the process and effort are what matters most. Like Hughes said, "I think it is a great learning opportunity", as do the members and officers of the club.
Junior Nadina Popoviciu, new to the club, had a wonderful time at her first conference.
She said, "I wasn't sure what to think since it's my first year of Model U.N., but it actually turned out to be a blast. The other people from the other delegations were really nice—very diplomatic. It was a really great experience."
One reason the members had such a successful time is the work of their leaders. The officers of the club worked very hard before and after school to prepare and educate the members.
Hughes said, "The officers did a really good job coordinating expectations, and feedback was great."
May Xiao, president of the World Affairs Club, was very involved in all of this, taking her time to proofread all the position papers and provide tips and guidance. She said, "I definitely think that our delegates, Mayfield as a whole, performed very well. All the delegates I talked to said that they were able to be very active in committee, something we have been really encouraging them to do through our meetings."
Therefore, the members have reliable and knowledgeable officers to look up to throughout the year, whether they are new to the club or not. Help is provided to anyone looking to join.
Popoviciu said, "I would definitely recommend it for anyone."