Mustache for Cash returns for third year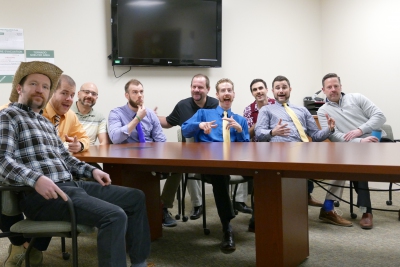 Hang on for a minute...we're trying to find some more stories you might like.
With the beginning of March, the beginning of one of the most important MHS fundraising events follows: Mustache for Cash.
The facial-haired-fight pits male staff members against one another. They grow out their facial hair until the day of the competition, when they shave into a mustache. People then donate money to who they feel has the best showing.
"Mr. Pubentz sent out an email to the staff and just said 'Who's in?' and I thought the idea was hilarious," Assistant principal Brian Linn said. "This is my first year at Mayfield so I thought it was a really fun idea. He shared that it was for the St. Baldrick's Foundation, which I thought was an excellent fundraiser for cancer research."
The fundraising event works hand in hand with those students raising money and shaving their heads. While most mustache participants are most likely too attached to their manes, that doesn't mean the moustache competition is weak.
"I use all this product so I hope people are intimidated by my mustache," teacher Michael Reinhard said. "I use beard oil, I use beard balm, and I have my own beard brush. That was when my beard was pretty full grown but I've still been using the product. I'm going to do my best to shave the first day into the best thing anybody's seen."
"I'm hopeful that I'll win," Linn said. "However, I've seen Mr. Reinhard's beard and Mr. Pubentz's beard. Mr. Gynn looks pretty intense. I know that Mr. Verdi wakes up in the morning with hair in different places. I think he might win."
Despite all the conflict amongst participants in regards to have the best mustache, the most important aspect is the fundraising.  
"Last year, I think I got 'Most Likely to Walk Into a Saloon'," Reinhard said, "Money-wise, not too much. I'm hoping to step up my game. I've been talking the classes up. Hopefully they'll be all in for it. I'm definitely looking forward to trying to raise as much money as I can."
The fundraiser takes place between March 6-10.  Students can donate directly to the teachers in the competition or donate during lunch periods.
All photos taken by The Mayfielder.

Jared Serre, Chief Editor
Jared Serre is a senior and is entering his fourth year as a member of The Paw Print. This school year will be his second serving as chief editor. It...