Sophomore emerges with successful YouTube channel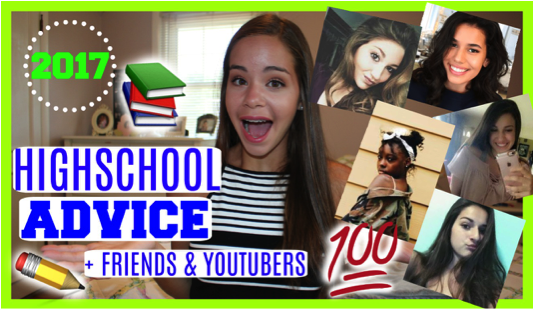 Hang on for a minute...we're trying to find some more stories you might like.
Claudia Casey is a growing YouTuber who aspires to inspire young women and continues to promote positivity, as well as the image of self love and creativity.
From tapping her pen on an AP History book to tapping the REC button on her Canon Rebel T5i, Casey is a role model to many. Her following on YouTube resulted from the interesting things that she uploads, from making "School Morning Routine" videos to "2017 Goals & Resolutions! Tips On Making & Reaching Your Goals!"
Casey said, "Choosing which videos to film really depends on how I'm feeling at that moment in time. If something is on my mind, or if my subscribers reach out to me asking about certain topics, I will make a video suggesting those few things. If not, I usually will film my own sort of twist on the newest fashion or beauty trends."
Casey's traits have spread throughout the YouTube community, as well as the environment in which she is surrounded. But being a role model is not the only thing she has done.
Casey said, "I have obtained creativity from the ideas and selections of my videos alongside a new profound positive attitude. I have also adopted a new sense of personality from the experience, which I feel that some of my friends have revved off of as well."
With a diverse family of 18,394 on the internet, and supporters physically with her in Cleveland, the YouTube phenomenon has reached out and touched countless of her subscribers. Casey said, "I feel that I have really impacted other people's lives with my channel by supporting the idea of being yourself and spreading the importance of self love. I feel that every one of my followers is beautiful and different in their own way which is something to really embrace."
Mia Tudini, long-time friend of Casey's, supports her channel as well as the overall person she has become.
Tudini said, "Claudia is a positive influence on everyone around her, especially those closest to her. She has showed me how to be myself while only embracing the opinions of those around me that truly matter. Her lifestyle is very inspiring and I'm really grateful to have a role model and friend all in one, and am very excited as to where the future will take her."
Although this Mayfield student has changed others' lives, YouTube has also affected her own. YouTube is a huge part of Casey's life, and continues to be an ongoing project with endless outlets.
Casey said, "Knowing that I have an enormous family of 18,000 that are there for me through the ups and the downs, and the fact that I have all those subscribers rooting for me is so eye opening. Making videos with meaning and watching videos with meaning is a whole 'nother level that I've reached. I truly have found my purpose through this process, and I think that it's amazing how much a simple video online could affect me, as well as thousands of others."
Finishing off freshman year with a 4.2 GPA, and totaling 119 videos in 2016-2017, the YouTuber has maintained her passion and the itch to send a positive message throughout her community.
Behind the scenes, former teacher of Casey's, Kari Beery, speaks out on what it's like having her from the film room to the classroom.
Beery said, "Claudia is very charismatic and passionate about learning and helping others. She easily catches the attention of her classmates because of her curiosity about the world, her joy in learning, and her strength to share information with others. It doesn't matter if it is a fashion or make-up trend, Claudia can also use this skill to discuss social issues and try to solve problems in our world."
The three year ongoing YouTube star has helped Beery personally as well, from her tasteful fashion advice to her meaningful messages.
Beery said, "I am old, so I need help with fashion a lot. I could watch this to stay in the loop. Not only that, but I have a daughter who loves all of these topics. It connects us. Lastly, I know that Claudia believes in the empowerment for women. As a result, she has taken a topic that usually stereotypes women into a 'fixed beauty expectation'—-Claudia shatters that idea by being true to herself and using fashion as a medium to propel the powerful voice of women that embraces truth, expression, and strength."
Tudini has been alongside Casey as a classmate for five years. Tudini offers that Casey's efforts put into her channel show within in her school work as well.
Tudini said, "Being in class with Claudia, her YouTube demeanor outshines the other kids. Her stamina with public speaking and confidence shows the experience of which she's obtained from her channel. When other kids need help, Claudia is the first person to give them advice. "Everyone in the classroom environment is comfortable with her and uses her personality and drive to succeed as a guide."
Making a difference in the Youtube community, as well as the Mayfield community is a big part of Casey's life. Although her channel is a fun way to express herself and her interests, such as makeup and fashion, it is also a way to interact with others from all over the world.
Tudini said, "Claudia is an amazing role model with an amazing talent. Wherever she goes, whoever she's with or whatever she is wearing, Claudia will influence everyone around her. She has left an impression on everyone she's met, and is truly inspiring."