Senior creates community service project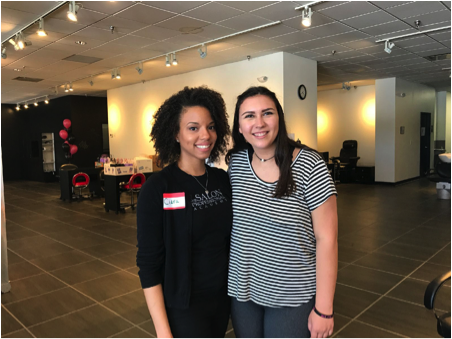 Hang on for a minute...we're trying to find some more stories you might like.
Andrea Melaragno takes time out of her day to help the community, single handedly starting an event to support residents' in domestic violence shelters.
A couple years ago, Melaragno found out that her cousin had been in multiple shelters throughout her life. "Hearing stories about someone in your family going through this makes the issue a lot more personal," Melaragno said. "Domestic violence is an issue that dominates media and is always on the news but having someone you know and love go through that, drives you to make a change and help others."
Knowing that domestic violence is a pressing issue in today's society, she wanted to aid those who have been touched by domestic violence and she knew exactly what to do.
"I decided on Haircuts for Care because it was something I had a lot of resources for with my mom being a cosmetologist. It was really nice to have a set idea and resources to something that could help me achieve my goal."
Melaragno spoke to a representative from the Salon Professional Academy, Cierra Jacks, who was supportive from the start and was able to get volunteer cosmetologists for all the past and future events. Her mother, Marla Melaragno, was also a big help in creating the event.
"I support Andrea and Haircuts for Care because she wants to give back to the community and has a strong understanding of not judging a person because of a situation that they may be in," Marla Melaragno said. "She sees first hand that no matter how bad life gets, someone's life is always worse but there are things we can do to put the smiles back on their faces and encourage them."
Haircuts for Care provides women and children in shelters with a way to feel confident and empowered. The event occurs once a year and is usually scheduled for April. Residents receive haircuts, washes, massages, and manicures for free as well as goodie bags on the way out. Melaragno also provided food and snacks for the residents along with the volunteers.
"For the first Haircuts for Care we didn't really have any startup because there was no foundation yet so I knew that by putting money into it, I would be able to get more out of it eventually," Melaragno said. "So, I used the money that I got for my 16th birthday for the very first event, mainly for food and the space we were using for the day."
Setting up the event was not easy, especially the first year, but Melaragno did everything she could, putting in both her time and money. However, she said it did become easier. "The following year we were able to get more community donors who knew what we were doing since we had a foundation for it which made it much easier to get people to donate," Melaragno said.
Donations came from many local donors including dentist offices that donated toothbrushes, McDonald's who gave the kids coupons, as well as several others who donated money that was then used for food and making the goodie bags which also contained gift cards, toiletries, feminine hygiene products, and more.
"I think that we, as people, take a lot of things for granted, even something as simple as a haircut that we can easily get an appointment to but some people unfortunately cannot," Melaragno said. "I know that a haircut doesn't solve the issue of domestic violence but the people that fall victim to abuse often times don't feel beautiful in their own skin and to make them feel confident and empowered for the day is what Haircuts for Care encomposses in totality."
She also asked some of her fellow classmates to give up some of their day to help the great cause. Sara Peters was one of four students who helped set up and volunteered at the event. The student volunteers also spent their time playing, watching over, and getting messy with sprinkles and icing while decorating cookies with the children while they waited for their turn to get pampered.
Sara Peters said, "I didn't think that the event would affect me in the way it did, but seeing those families and hearing their stories makes you realize that this issue is very real even if we don't see it in our everyday lives. Especially the young kids who've been through so much more than I ever have, but were still so excited to get their hair done and were smiling and laughing throughout the day."
Rachel Ricchiuto, one of the other student volunteers, said, "I've been volunteering for Haircuts for Care since the beginning and my favorite part is just seeing the faces on all the women and how confident and beautiful they feel afterwards."
Ricchiuto spent the day talking and playing with the kids."The children tell their moms they look great and just hearing that from their kids makes them so much happier," Ricchiuto said. "It really boosts their confidence and makes them feel like they can do anything."
Melaragno plans to continue helping others and donating her time to those in need in her future and hopes that Haircuts for Care will not only flourish, but will also come to be a national event reaching out to victims of abuse across the country.
Not only did the residents leave with a smile on their face, but also a rose each that perfectly represented the beauty of the event and all of its participants.