Local woman devotes life to helping her sick mother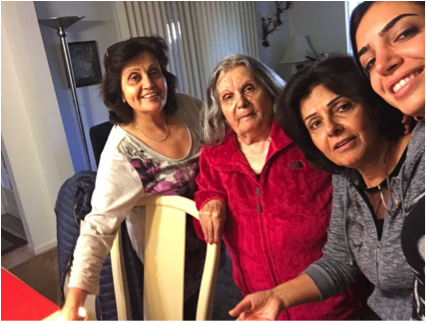 Hang on for a minute...we're trying to find some more stories you might like.
Lyndhurst resident Amal Rabil has been assisting her sick elderly mom for the last eight years.
Coming from a Lebanese background Rabil's mother, Margaret, had issues communicating since she never learned to speak English. Rabil said, "I had to take care of her myself… I had no other choice."
Rabil believes it's important to give back to her mother because of what she did for her when she was young. "My mother took care of myself as a baby and I'm doing the same now because she cannot take care of herself… I had to do it," Rabil said.
Once Margaret got older, she was having trouble with moving by herself, Rabil's sister, Leila Saber, said, "In the beginning, if she tried to walk, she fell,"
Rabil is extremely dedicated to assisting her mother and staying home with her. Saber said, "[Rabil] is not traveling, she is not going anywhere, Why? Because she cannot leave her mother."
Rabil prefers to stay with Margaret as much as she can and exclusively asks for trusted family members and friends to take care of Margaret while she is at work.
Rabil used to be a part time History high school teacher at St. Anthony High School in Hammana, Lebanon while studying at The University of Lebanon in Beirut. Rabil emigrated from Lebanon to the United States in 1986 in her late twenties in order to escape the horrors of the Lebanese civil war in search of a new beginning. After the passing of her father, Rabil was forced to stay home with her mother in order take care of her.
Rabil is glad that she emigrated from Lebanon to Margaret in the United States because her mother was provided with the aid which she needed to be able to help her mother. Rabil said, "In Lebanon, when you're getting old, you don't have enough help and if you don't have money it's very hard"
Rabil first started working accounting at multiple Subways in order to make a living.
Also, Rabil believes it's very important to stress that people who take care of the elderly must have a lot of patience. Rabil said, "It's like taking care of kids but they are not, you have to help with the bath, you have to help with the clothes."
Hard work is an extremely important factor in Rabil's life, constantly working to her fullest in order to support Margaret and herself. Rabil said, "I've been a hardworking person since I've been a kid, I like hard work it doesn't bother me at all."
Unless Rabil is at work, she is always with Margaret giving her time to take care of her. Saber states, "[Rabil] doesn't have a life of her own"
Rabil's cousin and neighbor, Georges Kanaan said "[Rabil] is always by Margaret's side, she never leaves her, changing her lifestyle to accommodate her mother"
Rabil goes above and beyond, showing love and dedication for her mother. Saber said, "[Rabil] truly does love Margaret"
Rabil is the type of person to not only take care about Margaret, but also the people around her such as family friends, cousins or guests. Kanaan stated, "[Rabil] always goes out of her way for everybody around her"
Rabil's brother, Samir Rabil has been assisting her through all the hardships that she faced immigrating to America. Samir gave Rabil the strength and loyalty when she needed it the most. Samir was always ready to help no matter what, Rabil is very thankful about what her brother and his family have done for her.