Different Needz Foundation assists many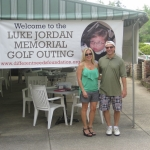 Hang on for a minute...we're trying to find some more stories you might like.
Karen and Brett Jordan started their own non profit organization, The DIfferent Needz foundation, to assist those in a similar position as theirs.
The Jordans were inspired by their son, Luke, who was born with cerebral palsy. Karen Jordan said, "Despite his disabilities, Luke was able to bring out the best in those who knew him." After Luke's passing in 2009, the Jordans founded Different Needz foundation.
Jordan, mother to Luke and treasurer of the foundation, said, "It can be very costly to have a child with special needs and there aren't a lot of resources out there to help people, even your average people who might need help with their day to day expenses for their child."
Intervention specialist Kathleen Morgan agreed with Jordan and said, "families with kids with special needs kids have so many expenses and so few of them are covered even by insurance… it just becomes cost prohibitive to raise a child with special needs."
Even though Jordan admits there are numerous other non-profit organizations out there for special needs children, she said Luke didn't really fit into any of those categories. Jordan said, "There a lot of organizations that just focus on Autism or down syndrome. So we wanted to just kind of reach out to everybody that fell in between those very clear diagnosis and be able to help them out with very costly expenses."
So while the board was created in remembrance of Luke Jordan, the Jordans wanted to extend their assistance to families in need.
Morgan said, "so a foundation like this, you can send to them for specific grant money. So if you don't have enough money to cover your kids horseback riding or you need tech, you can get like an ipad from them or you can get services for care that is not covered. Anything that helps the family, helps the child so that's why it's so important and it's such a missing piece in the community."
The board is fundraiser based. Jordan said it is challenging to continuously raise money. She said, "We only have one fundraiser a year because we are a small volunteer board and so we kind of have to raise all our money at one time. It is a lot of work to put on that one event."
Morgan believes that there isn't a widespread awareness for special needs which is another reason why it is difficult to raise money. She said, "I don't think people understand how many kids out there have special needs and how expensive it is. They estimate that 8% of kids under 15 have some sort of a disability and it can be pretty involved."
So an Annual Luke Jordan Memorial Golf Outing is the major fundraiser and promotion for the Different Needz Foundation. The golf outing brings family and friends together to celebrate Luke while also raising money to achieve the Jordans goal—helping other special needs families.
As Jordan said, Luke didn't fit into any of the categories and she didn't want this organization to focus solely on one disability. That is why the Jordan's came up with a system of grants in which families can apply for an item they need help paying for.
The average grant is approximately $700. Some families will receive more, as sometimes they receive in the thousands. However not everyone receives the same amount of money since the foundation wants to help as many people as they can.
Jordan said "families apply for things like help paying for summer camp, help paying for therapy such as physical therapy, occupational therapy, speech therapy, equipment like specialized strollers or walkers and bathing equipment."
"I am proud that we have been around now for 8 years and we have had 9 events. And through our fundraising and word of mouth we have been able to keep increasing the amount of money we raise and we have been able to help more and more people every year," said Jordan.