New learning modalities aim to benefit students as individuals
Hang on for a minute...we're trying to find some more stories you might like.
Are students better off choosing how to spend their class time? That's the question being asked by Mayfield High School staff and administrators.
Following a trip by three teachers to Central York High School in York, Pennsylvania, the idea of implementing a concept called "personalized learning" has become a big ticket item to consider.
The school plans to allow teachers the option to choose from one of four methods to teach their various classes. They have the option of sticking with the traditional way, allowing the students to work self-paced by only meeting two or three days a week, having courses online, or The Wildcat Program/cross-curricular, where two related courses, such as Creative Writing and Digital Photo, are taken together in back-to-back periods.
The goal of personalized learning is to help all students go at a pace that suits them individually, not just as a whole. Principal Jeff Legan mentioned that, currently, it is hard to do such a thing with classrooms containing upwards of 25 students, but that he feels personalized learning will be a remedy to the issue.
"You have some kids that are able to move on, but they can't because they are waiting for the teacher to be able to provide them more direction, while, other kids, are having more difficulty with the content and need more individualized instruction," Legan said. "By creating these new learning modalities, we feel that we are really able to identify and allow students to be able to choose the type of learning that best fits their needs."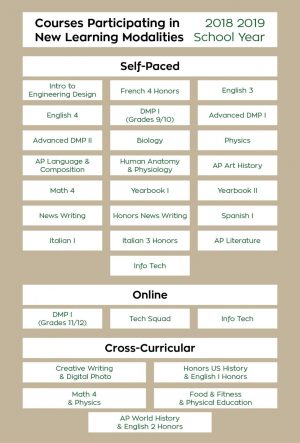 Legan expects around 15% to 20% of teachers to engage with the idea in its first year. He attributes the pessimism of the idea to being uninformed, mentioning that there are plans in the coming weeks to help bridge the gap. After a parent meeting on Jan. 22 at 7 pm, administrators will also be available to answer questions during counselor meetings with members of each grade level.
In addition to attending to the needs of individual students, Legan hopes that the new modalities will also help students develop crucial time management skills for their future. Mentioning that he interviews recent Mayfield graduates every year, he has seen an uptick in mentions for time management help.
"For the last five years, the responses come back exactly the same: 'I need more help with time management,' 'I wish I was able to learn more time management when I was in high school,'. These learning modalities, they're going to allow for a student to figure out time management, whether they are in a traditional class, a self-paced class, or an online type class."
Those who won't be experiencing much change are the teachers. In a self-paced course, for example, teachers are still expected to be in their classrooms during that class period and be available for help. On the same token, students who have grades below a 70% will have to attend classes on those "off days."
"It all boils down to student achievement. Making sure that the feedback that I get from the teachers, that if kids are growing at or above the same level that they are currently doing, it's going to be a success."