In Loving Memory of Stevie Grieshammer
Hang on for a minute...we're trying to find some more stories you might like.
Junior Stevie Grieshammer's friends mourn the loss of the easy-going and friendly young man he was.  
Grieshammer was well-known for his positive attitude, dedication, and the love he spread to everyone around him.
Sophomore Emily Steffey was close friends and swim teammates with Grieshammer. Steffey said, "You'll never have a dull moment with him. He is always someone to look up to, he is such an amazing person. There is not much more to add he was just amazing."
Grieshammer's friends and other peers also agree, including junior Gianna Ferrante.  Ferrante said, "We had a love hate relationship, but even in the hate, there was still love. We were always there for each other; every night he was always trying to make me feel better at the end of a bad day or practice."
His friends say Grieshammer was a very positive spirit to be around and was a very supportive and helpful friend. Sophomore Isaac Hatten knew Grieshammer from being former friends on the bowling team. Hatten said, "When I was on the bowling team last year, whenever I wouldn't bowl, Stevie was there cheering me on. We would talk for hours and it was awesome."
Sophomore Steven Aronov also found the same to be true about Grieshammer. Arnov said, "It was my freshman year and Stevie was helping me join the swim team. After that, we become super close and my first year of swimming came up and me and Stevie became brothers."
Grieshammer was always there for Emily Steffey throughout their friendship. Steffey said, "Our relationship was all jokes and fun times. There wasn't a moment where Stevie wasn't giving me motivation or keeping me in a positive mood. Everything was just positive with him."
Grieshammer will also be remembered from the fun times that were shared between him and his friends.
Steffey also remembers Grieshammer's sense of humor. Steffey said, "All the practices with him and simply just having him there to give the whole team fist bumps after hard sets. Also when we were getting dinner after a meet in Pennsylvania, he ordered a large pizza and a large sub and I challenged him to eat it all. Even though he was about to blow, he wanted to prove me wrong and it was so funny."
Gianna Ferrante has a more heartfelt and ongoing memory of Grieshammer. Ferrante said, "Well it's not just one single moment, but at the end of every single set, when Stevie would give me a fist bump no matter how bad the set was for me, I smiled when he held his hand up."
Grieshammer's friends all have their own special ways they plan on honoring him.
Aronov and Ferrante plan to carry out Grieshammer's memory with the thing he loved the most: swimming. Ferrante said, "Some of the boys are planning on getting tattoos but i would like to do something bigger like having an annual meet in his memory. I think that would be very special and would make him so proud."
Aronov said, "I will keep swimming and be kind to everyone no matter what because that's would Stevie would want us to do; try our best and be kind."
Isaac Hatten wants people to remember Stevie for the outstanding way he treated others. Hatten said, "I will act the same way he did, never judging anyone based on the first thing you see."
Steffey and the school board wanted to come up with a way to have everyone contribute in honoring Grieshammer. Steffey said, "Most of Mayfield students and faculty has made a bracelet for Stevie and will be selling them during different lunch periods. The bracelets have already sold out but we are hoping to purchase more to help support Stevie's family."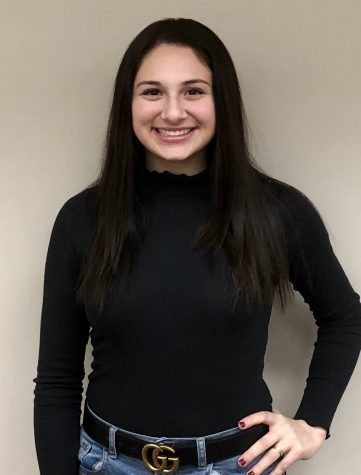 Juliana Fimiani, Staff Writer
Juliana Fimiani is a junior staff member at The Paw Print.

She attended St Paschal's and eventually transferred to Mayfield in the seventh grade....