Q&A: Special education teacher plans wedding for 2019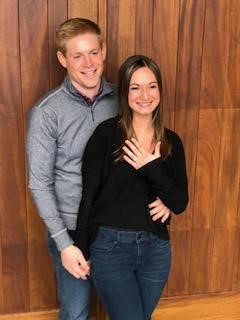 Hang on for a minute...we're trying to find some more stories you might like.
In an exclusive interview, The Paw Print's Shane Pigram sat down with teacher and coach  Michael Pinto to learn more about his plans for summer break.
Shane: What kid of ideas do you have for your wedding?
Pinto: My fiancée, Lauren, and I are planning a typical Catholic wedding. We plan to get married in a church followed by a reception filled with food and dancing at night.
Shane: Have you decided anything yet for the wedding?
Pinto: We have not made any final decisions yet as we are still over a year away from our tentative wedding date, June 15, 2019.
Shane: Are you going to have an inside or outside wedding?
Pinto: Majority of our wedding will be inside but most of the venues we have looked at have an outside spot to hang.
Shane: Are you planning on leaving the state or staying in ohio?
Pinto: Definitely staying in the Cleveland area for our wedding. Majority of our family and friends are from the area and we would hate to make them travel.
Shane: Are you going to hire a professional photographer or videographer?
Pinto: Yes. We have been contacting professionals for photos and videos and getting quotes from each of them.
Shane: Do you already have a suit picked out or are currently looking at one?
Pinto: My plan is to either have a suit or tuxedo for my wedding. I have connections with Terriaco Suits in Mentor so I am strongly considering working with them on building a custom suit for the wedding.
Shane: Does Lauren have a dress picked out?
Pinto: She doesn't yet but has been to a couple stores in search for the perfect one.
Shane: Do you already have a best man picked out?
Pinto: My older brother is going to be my best man.
Shane: Does your fiancé know who her maid of honor will be?
Pinto: Lauren's younger sister is going to be her maid of honor.
Shane: Do you know how many guests you will have?
Pinto: We are in the early stages of planning our wedding but Lauren and I have roughly 310 invitees on our guest list.
Shane: How many people are going to be apart of your wedding party?
Pinto: Our wedding party is at 11 people for each of us.
Shane: How much do you think this wedding will cost?
Pinto: Very expensive. Weddings are very expensive now a days. You will find out sometime when you meet your lucky lady., so we are really looking around for the best deals.
Shane: What kind of food are you going to order for the wedding?
Pinto:Lauren's father is in the restaurant business so we are considering venues where we can have his catering business supply the food to keep costs down.
Shane: Where are you guys going to have your honeymoon if decided yet?
Pinto:We haven't picked a honeymoon spot but I would like to go somewhere with a beach.
Shane: You said you want to go somewhere with a beach for your honeymoon. Will the honeymoon be out of state? because Ohio doesn't have the greatest beaches.
Pinto: Yes out of state. Potential options are Hawaii, St. Lucia, or any of the island in the Bahamas.
Shane: Should I be expecting an invitation?
Pinto: Haha, I didn't have you on the initial guest list but if people can't make it I will consider you!
Shane: Thank you for taking the time to answer my questions.
Pinto: No problem at all.  It was my pleasure.