Local business owners experience rocky path yet still succeed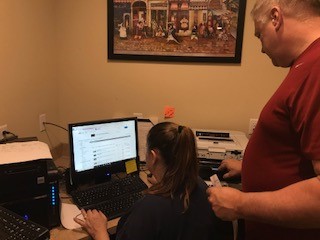 Brianna LaGore, Guest Writer
May 25, 2018
Flexible hours and endless, nonstop working lifestyle is how Chip and Kathleen LaGore would describe themselves who are owners of a small and local electronics recycling business.
Chip LaGore, who named the business Alltech Electronics Recycling, said his struggles helped his business grow. LaGore said he has experienced people doubting his business yet he has proven them wrong, since hard work paid off well.
He said, " Overcoming the struggles took a lot of energy and required a lot of hustling. You have to look for business, you have to call people, be on the ball. It's not going to come to you [so] you have to go to it."
Working after hours on holidays such as Christmas, LaGore said, "Even though we close a couple days before big holidays like Christmas, still work a few hours to accommodate customers with appointments."
With many ups and downs that come with a small business, according to LaGore, there are more ups than downs.
Visiting and having multiple appointments with different banks to try to get a loan was tough. He said, " A lot of banks didn't want to loan me money at the time because a lot of people weren't paying back their loans. They were very hesitant about loaning money to small businesses."
Working five days a week from roughly 9am to 3:30pm and a few hours on Saturday, he further said, "I work out of the home. Sometimes the hours can be very flexible. If I want to work at night I can work at night and I'm in control of my own destiny which I like that."
Kathleen is in charge of a dedicated section of the business. Kathleen runs the eBay division, which sells many electronics to people across the world.
She said, "The eBay divison tremendously helps because it keeps products in the mainstream of viewers eyes because there are hundreds of buyers across the nation that we normally would not be able to reach in a small business and being local. Not only can we reach nation wide but also worldwide.
With many struggles along the path of building a strong small business, it brought emotional barriers that may have led to the feeling of giving up on the business.
She said, "Absolutely we have felt giving up because nobody seemed to have faith that this would work out for us and we had to make many changes to make it work for us."
Junior Vladis Alimova appreciates the work small business owners put into their business.
She said, "I really appreciate how hard small business owners work to provide for the community."
Alimova also enjoys how small businesses are inviting and are very welcoming.
She said, "Many people love them because it makes them feel like home. For example like coffee shops, when they decorate them all nice during the winter time, it feels like i'm at home enjoying a warm drink."
As the small business continues to be a huge part of both lives, their personal relationship is still healthy according to Chip.
Due to the business being small and local, the LaGores still manage to find a way to expand their business not geographically, but through promotions.
Kathleen said, "Promotion is usually done through word of mouth through other businesses that we have relationships with. We do have some advertising on some websites.
Alltech Electronics Recycling can be reached by people going to the website https://www.alltechelectronicsrecycling.com/ or through eBay by the name of mamalouacutions.