Harry Buffalo doesn't disappoint with outstanding food, service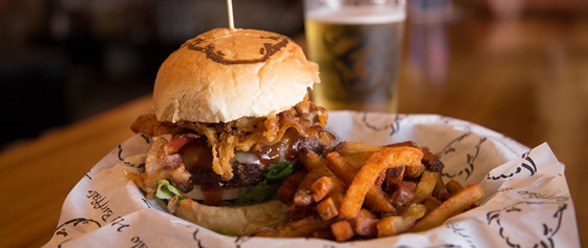 If you're looking for a new affordable family-friendly restaurant, then the Harry Buffalo in Highland Heights is an excellent choice.
The Harry Buffalo provides a fun and cozy atmosphere. Free arcade games, bowling, televisions, and dimly lit- but not at all vision limiting, makes this restaurant a great choice for dinner.
I went with friends during the evening of the NBA All-Star game and was seated instantly. Any seat had a perfect view of one of the game due to the large TV's virtually everywhere.
The atmosphere is a large part of the experience. Being a sports bar the the restaurant had a fair amount of people, the walls were made of brick and the table was rustic wooden log.
The server was friendly and immediately got our drinks and then placed our orders when he returned. The wait was relatively short, especially considering the number of our party (6), and rush of additional customers due to the basketball game. During this time we were able to play on the arcade games for no charge.
Speaking of the server, I couldn't ask for much more. He was frequently checked in on us about our orders and to answer our questions, and he acted like he cared. Most importantly, he treated us like customers rather than teenagers.
When our food arrived it was in the standard basket with a Harry Buffalo lined paper. I ordered the Bacon Bison Burger ($14) with fried egg ($1) on a pretzel bun, which looked just like a burger should. It also included a hearty amount of crispy french fries.
The taste was far above the average burger, however. This had to have been the best burger or at least one of the best I had ever had. The temperature was perfect (not hot or cold), the bun was fresh, the bacon/bison/fried egg complemented each other perfectly. It was not too greasy and everything was in proportion.
Edward Beck, a MHS history teacher who also has had positive experiences at the Harry Buffalo. He said this, "I like it I like it a lot, it like both locations; very positive. Great selection of food, the burgers and chicken are my favorite things. I think Harry Buffalo has the one of the best burgers around here. For a good burger that's my go to place."
Overall, it was couple dollars pricey, but well worth it. Paying the bill was a hiccup because I had to pay for a friends wings, and we each needed our own check. The server was very understanding of our situation and worked with us.
In conclusion the Harry Buffalo exceeding the expectations and set the bar higher for other sports bar. From the friendly and professional service to the excellent food, I highly recommend Harry Buffalo and give it five out of five bison.