Students share their creative voices at KSU
Hang on for a minute...we're trying to find some more stories you might like.
On Oct. 11, students in the Creative Writing courses visited Kent State University to expand their creative voices.
Charlie Malone along with Sony Ton-Aime from the KSU Wick Poetry Center led creative writing students on their journey of self-expression in nature.
English teacher Kari Beery teaches the creative writing students and accompanied them on the field trip. She said, "My favorite thing about the field trip to KSU is that my students get to see that there is value in poetry and writing and it does influence other people when you're around it and around other people who appreciate it. There's some sort of magic that happens outside of the classroom, the art lives and breathes here."
Senior and second year creative writing student Elizabeth Corpus attended the field trip to KSU both her junior and senior year. She said, " I'm not one to spend my time writing about nature but this experience allowed me to expand my writing on the topics that write about. Things have been stressful and this has helped me to return to a suitable zen."
Senior Nathan Muhlbach is a first year creative writing student who attended the field trip for the first time. He said,"I am looking at going to Kent in the future and I enjoy writing so I figured it was the perfect opportunity to learn about the atmosphere and ask some questions about the guidance counseling program and the music therapy options. Also I could tell this field trip was very important to our teacher and wanted to experience all she was hyping up!"
According to Beery, students get to share their voices by watching and listening to others. She said, "When Charlie or Sony or other representatives are saying 'let me show you, let me give you my model first' and then everyone sees that they have a way in, there is a joy of being an artist and having a voice in the world. There is a command of standing in front of other people and sharing, it doesn't matter if it's one line or 20 lines, there is a celebration of your soul on that stage in that moment that radiates out like a ripple, that makes people want to try it again."
Creative writing as a whole helped senior and second year creative writing student Shéa Page become more comfortable. She said, "For me, creative writing put me in a place where I didn't have a choice in whether or not I wanted to share and because of it I'm now more comfortable, maybe not confident, but more comfortable with sharing. Don't get me wrong, I still shake and turn red when I share but instead of just panicking, it's now panic and excitement; not sarcastically, it's a differentiation and growth I'm proud of."
For Corpus, sharing her voice isn't just about being in the center of attention. She said, "I love the response from the crowd and then sometimes getting feedback of constructive criticism. I think that it also helps my confidence in terms of eliciting it more."
Page believes that jumping right in is the best way to overcome a fear of sharing. She said, "I would say the best way to overcome your fear is not what people want to hear. You really do have to jump right in. You have to close your eyes and just tell yourself you can do it and even if you don't believe it, do it anyway because fear is a bomb propellant."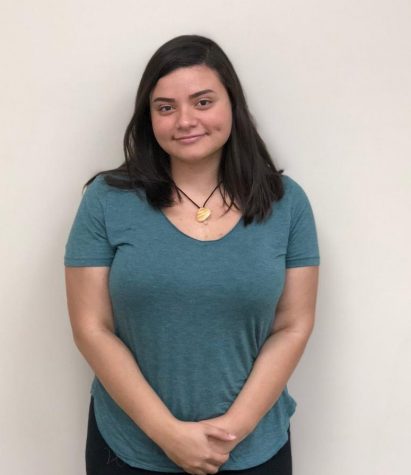 Krista Rice, Chief Editor
Krista Rice, a senior, is proudly a staff member of The Paw Print. In her senior year, Krista decided to take Honors News Writing to bring back good memories...