Sophomore represents U.S in international competition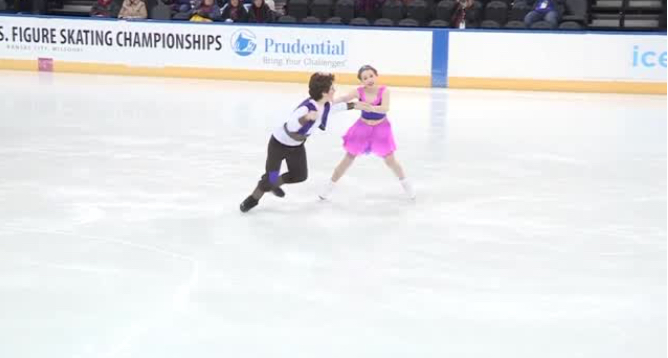 Emily Kolominsky, guest
November 13, 2018
Sophomore Marius Driscoll, a two-time nationalist for the American Figure Skating team represented the United States in a skating competition, placing in the top two teams for the nation.
In the competition were two nations, the United States of America and Canada, with only five of each of the nation's teams representing their countries. Organized by the USFS Organization in mid-June, Driscoll along with partner Maria Brown competed against a powerful nation to win for America.
Driscoll proclaimed that in all 12 years of his skating experience, representing America was his proudest moment. He said, "It felt great being able to represent the US! The first place team in the whole event was from the U.S. Maria and I were the second place US team."
From being a toddler to today, his life has been filled with figure skating. Driscoll said, "I only started practicing skating when my older sister started doing it… If it weren't for her, I don't know if I would be skating today."
Driscoll mentioned that having the great responsibility of representing your country can be an honor, but also incredibly intimidating. He said, "I was kinda nervous going into it and being on the rink practicing and all but then was pretty thrilled with how I skated after the competition was over."
At the beginning of his journey, Driscoll explained that it is not easy getting to be a finalist in any competition for that matter. It will always take hard work and a ton of practicing. He said, "I practice typically six days a week, two to three hours a day in the rink."
One of Driscoll's greatest friends, sophomore Ethan Barnes, admires his best friend for his unique role in the sport. Barnes said, "It feels great to know that somebody in my school is a finalist in an international competition! You would not except that of somebody like that anywhere, let alone our school, so it's nice to know I am friends with someone like that."
Another one of his longest friends, sophomore Emma Andrews also appreciated the amount of work and commitment he has put into skating. She said, "I admire him because it is very uncommon for guys to figure skate, especially competitively. Seeing him do what he loves to do and watching him succeed from it is really admirable."
Many of his dearest friends are absolutely thrilled for Driscoll going on further on his path to nationals. Andrews said, "Seeing Marius succeed in national competitions and win for our country makes me feel great because I know he is working hard to accomplish his goals. Being his friend throughout that experience makes me feel like I know my friend is going places."
Barnes mentioned that he thinks the fact that Marius skates competitively, increases his likability among others. Barnes said, "I think him skating and how hard he works really enhances his likeability because it makes him look daring and unique for being the only person in the school to ice skate competitively."
Driscoll's dreams don't end there. He's aiming to go back to Nationals this year and perform better than ever before. He said, "I feel I've gotten better as a whole since then so I suppose I'm hoping to qualify for nationals this year and hopefully do well there!"
Driscoll will be competing next week in the Midwestern Sectional Figure Skating Championships.