Students work towards Scholastics writing contest deadline
Hang on for a minute...we're trying to find some more stories you might like.
Second year Creative Writing students had the opportunity to write for the Scholastics writing contest and are now working hard to reach the deadline of Dec. 11.
English teacher Kari Beery teaches Creative Writing and some of her second-year Creative Writing students are currently finishing up their submissions.
In her experience teaching veteran students who work on Scholastics, Beery said, "Scholastics is a national contest for art and writing as it honors the excellence of students and has been a premier contest for a long time. It starts as a regional contest. The first pieces we submit go to a regional panel to judges in Cleveland and then if it is considered for a gold key, the highest honor then it will go to a national panel in New York City. If you get a gold key from that panel then you are honored and invited to share your piece in Carnegie Hall in front of an audience.
"You are also rewarded for the gold or silver keys from the regional panel at the Cleveland Institute of Art," she said.
Senior Elizabeth Corpus is a second-year student who is participating in the contest. In order to reach the deadline and stay organized, she said, "I have a specified folder both on Google Docs and in real life in order to help me know what has been reviewed already and edited. In addition, when I know that I am completely content with my work, I just go and upload it onto the Scholastics website so that I don't have to deal with it in terms of worrying if it's complete or not."
The option to participate in Scholastics is given to veteran student's in Beery's Creative Writing because of their previous experiences in the first Creative Writing course. She said, "In the quest to build upon new skills, usually the first year of Creative Writing is just honing your skills and going in depth in lots of different genres, so although we do enter into some contests in Creative Writing One, if you take it again, it really takes it to another level where you would have to feel comfortable sending things out, honoring the process and taking heavy or constructive criticism, working towards and audience that has certain expectations of you. In this contest voice and originality are highly preferenced so sometimes that skill isn't always present your first year."
Scholastics has allowed students to see their writing in a different way according to Corpus. She said, "Scholastics helped me to see my writing from a different POV which in the end can make my writing better. In addition, having to conference with Beery, it was nice to have someone who I wasn't like uber best friends with because she read my work as if she didn't know me which allowed me to think less selfishly about my work, thinking that it upholds no flaws."
Junior Maddie Foresta is a second-year Creative Writing student and is participating in the Scholastics contest. In preparation for the deadline, she said, "I've been working on the pieces for scholastics for a few weeks now and have been continuing to edit them to the best of my ability."
Beery said, "I think Scholastics improves writing because it's an intimate process with conferencing so you have to be really open to talk about your own piece so I think the challenge sometimes for some students in their first year is coming into your own voice, recognizing that you have something to say is just starting to resonate. With Scholastics, you kinda know that about yourself a little bit more and then you start working through all the possibilities so the challenge is what possibility am I going to take? The challenge is sorting through all of that but the reward is that you're in a place where you start making your own choices, to say that I take ownership of this and I want to share this with you is an incredible, powerful challenge and change for a writer."
Corpus is very excited to have been able to participate in the Scholastics contest. She said, "[The Scholastics contest is] an exciting thing to do because right now in life and in my senior year, I believe that I am in my prime in writing. I have improved heavily and have written about more mature content instead of a fantasy where things are perfect. I am excited and nervous at the same time for people to look at my work but I just am honored that my work, a barely five-foot girl from Mayfield, is having her work read by basically professionals."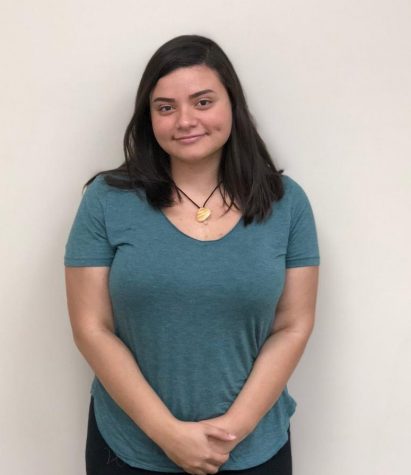 Krista Rice, Chief Editor
Krista Rice, a senior, is proudly a staff member of The Paw Print. In her senior year, Krista decided to take Honors News Writing to bring back good memories...