Winter student-athletes cope with cold days
Hang on for a minute...we're trying to find some more stories you might like.
Swimmer Gianna Ferrante, gymnast Sasha Borshev, and wrestler Rory Nolan all have to deal with the cold days affecting their sport.
Winter athletes, just as every other season athlete, have big obstacles they must face. One of those obstacles being the chances of the athletic director, or their coach canceling practice due to inclement weather.
Sasha Borshev, one of the senior captains of the gymnastics team, is no stranger to snow or cold days affecting practice. Borshev said, "If [practice being canceled] is weather-related, the AD usually decides. But if we don't have a snow or cold day and the weather conditions are still bad or we can't get the gym for some reason, our coaches call practice."
While gymnastics gets canceled once in a while, Ferrante said it's almost rare head swim coach Rick Balcam cancels his practice. Ferrante said, "Rick always finds a way to have practice; on the cold days [Jan. 30 and Jan. 31] we had practice for our club team instead, and he just told everyone to go to it. Also, Wildcat Sport and Fitness stayed open so we were still able to have our club team practice."
When practice does get canceled due to the cold or snow days, it doesn't always mean that the team won't get together that day. Nolan said, "Thankfully our wrestling coach has his own gym called Powerhouse Gym and as a team we all travel there to get a nice workout in."
While the wrestlers have a place to resort to, the gymnasts and their coaches can't always find a solution to the problem. Borshev said, "Sometimes we reschedule a practice, especially if it's close to a meet, but usually we just take the day off and move on from there."
Cancellations sometimes do occur and are usually given in advance. Ferrante said, "It just depends; sometimes Rick won't know until the morning of the cold day, but for [the cold days we just had], he found out that we'd be able to practice on Tuesday afternoon, so we knew by practice that night that we'd have a practice for the two cold days."
If the swimmers do not have practice one day, Ferrante said Balcam usually decides what they do. She said, "This one also depends on the situation; it rarely happens that [Coach Rick] doesn't get us a practice time, but he would probably tell us to try to find [a pool to go to] to go and get a workout in, but if it was that serious that he couldn't even get us a practice then he also may just tell us to stay home and rest if it was that cold or that unsafe to swim."
The wrestling all-star, Nolan, tries to never miss a day of working out. Nolan said, "On my day off I'll try my best to get a sweat in or something to get my blood flowing but if we've had a hard week I might give myself the day off if we have nothing mandatory."
While Ferrante and Nolan try to work out in some way, Borshev sometimes enjoys having the day off. She said, "I appreciate every day off we get! It's nice to just take a day for yourself and finish up homework, spend time with my friends or family. Or, sometimes it's just nice to get that day-off call and stay in bed."
Even with cold days, the season must go on. Borshev said, "Hopefully we have no more cold days or canceled practices because our sectionals are coming up and our team just really wants to be prepared as possible."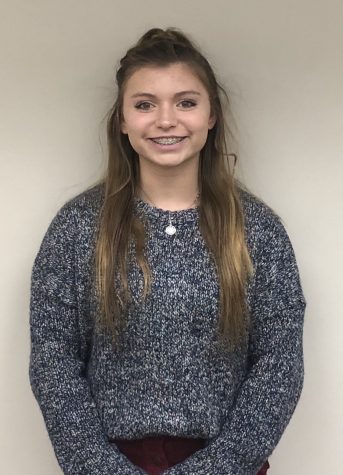 Becca Fritz, Staff Writer
Rebecca Fritz is a junior staff member of The Paw Print.

Fritz went to the Assumption of the Blessed Virgin Mary in Geneva up until 6th grade and transferred...