Varsity Football plans for a strong 2019 season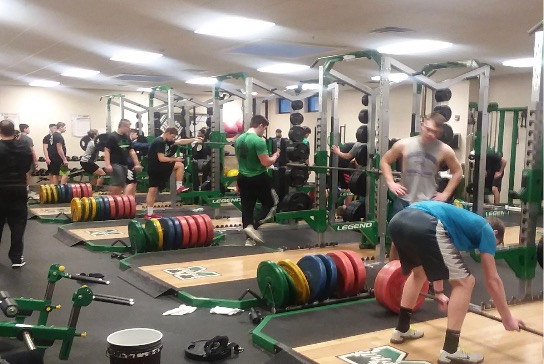 Hang on for a minute...we're trying to find some more stories you might like.
The Varsity Football team starts to prepare for their 2019 season
Head coach Ross Bandiera shows excitement to discover what the 2019 season will bring. He said, "Every year the level of excitement is a ten. Each year is new and different from the previous, so it's exciting to see what this group of players will produce."
The team went 5-5 last year losing to Archbishop Hoban in the WRC Division II Quarterfinal Playoff game. Defensive line coach Mike Pinto, Son of former head coach Larry Pinto, said "We go by a motto on the defense '11 as one'. If every player does their job correctly and to the best of their ability then the team will be more successful".
Sophomore Michael Huss is the varsity starting quarterback who has pre-season goals as well. Huss said " My goal record for The Mayfield Varsity football team works to get stronger while following a 5-5 season. The team has huge ambitions going in to next few years.
Ross Bandiera encourages players to push themselves to their limits on and off the field. He said, "[We] work as hard as we can in the off-season and play as hard as we can when the season gets here."
Preparing a Varsity Football team to play on Friday night, Bandiera said, " There is so much that goes into getting a football team ready to play on a Friday night that no one else has any clue about. People come and watch and some think we just show up and play. No one realizes everything that we have to put into it to be successful".
Among the many plans to improve the team's abilities, Bandiera believes training throughout the year is extremely important to their success. He said, "We will continue to train as we have in the past. As the off-season moves on we will implement more football related skills and drills during the summer portion of the workouts."
this upcoming football season is 10-0. Every year the goal is to not lose a game. We are going to prepare that way and if we work hard and everyone does their job we will achieve that goal of going 10-0"
According to many players and coaches, having vocal leaders will help with igniting the fire the team will need to compete in the 2019 season. Huss said, "Some personal goals I have this season is to be more of a vocal leader to the team as well as a leader by example. I am one of the upperclassman now and I want to help the younger guys become more comfortable and create a family within our team."
Sophomore Billy Guzzo is a wide receiver who believes his team has the potential to get better as the season draws closer. Guzzo said, "We do have what it takes to achieve success, but we have to put it into action on the field."
One of the most important pieces to the puzzle to success is collective contribution according to Guzzo. "Our team is like a clock with each part needing to contribute or else we cannot function. We focus more and more on working together each year, 2019 will be our best year yet," he said.
The team plays the Walsh Jesuit Warriors on Aug, 2019 at Wildcat Stadium. Big games this year will be against the Brush Arcs, Kenston Bombers and Chardon Hilltoppers.